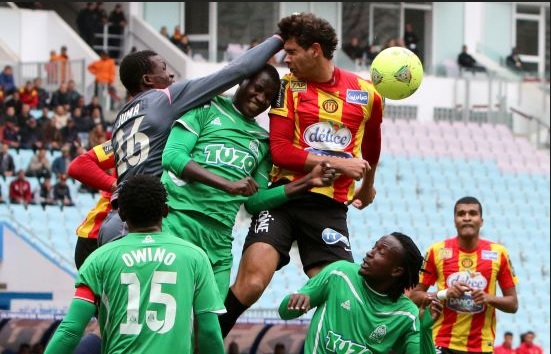 In the past few years Gor Mahia has learned some harsh lessons in continental football, most of which have been beneficial to the club. When the club lost heavily to Rwanda APR in 2008, they learned that continental tourneys must be played by exprienced players and noyt recent school leavers. When they lost to Ferroviario de Maputo, they learned the importance of having a strong, united, independent technical bench that cannot be influenced by agenda-driven club officials. Both these lessons spurred the club to success on the local scene in 2011, 2012 and 2013.
The last two matches against Esperance were hock full of lessons that Gor Mahia must learn and apply if they are to ever close the gap on teams like Esperance.
There are several tactical and technical aspects that Gor Mahia must learn from. The purpose is not to blame any player because having watched the match, all Gor Mahia players gave their best efforts.
Movement off the ball
Gor Mahia players are too static. Too often when a team-mate has the ball, they stand around making it impossible for the team-mate with the ball to make a precise pass.
Esperance have mastered the art of moving off the ball. Their attackers make decoy runs to draw defenders thus leaving another player wide open. They are always looking to run into space and it inevitably results in a through ball that wreaks havoc on the opposing goal.
In fact virtually all the goals Esperance scored were the result of well timed movements off the ball and in some cases a decoy run by one player that left another player wide open.
Perhaps the only Gor Mahia player who showed a willingness to make such runs was Geoffrey Walusimbi. Which brings me to my next point.
Lack of Coordination
On most of the occassions when Walusimbi made a run down the flanks, he was not picked out by the team-mate with the ball. Late in the second half, Blackberry had the ball on the edge of the box. Walusimbi made a diagonal run into space. Blackberry did not see Walusimbi and instead tried to force the ball to Sserunkuma who was marked by two people. He ended up loosing the ball. Some of this stems from the fact that these Gor Mahia players simply have'nt played together long enough to be in sync. But even Sserunkuma who has played with Walusimbi for the Uganda Cranes missed one of Walusimbi's runs.
Quickness of thought and the ability to make the right decision on the fly is another area where Esperance really exposed Gor Mahia. Logarusic once said he wanted players who could think and run at the same time. On Monday we saw why.
This is in starke contrast to Esperance. They anticipate a run from a team-mate. When an Esperance player has the ball he will look left and right and inevitable pick out a team-mate making a run.
There is no coordination between the Gor Mahia forwards Blackberry and Sserunkuma. Some of this is because the two have never played together. It does not matter how good each one is individually. If they are not in sync, the team will not succeed. They both need to start working on better coordination, anticipating each others runs, making the right pass and working hard for each other.
Long Balls
The lack of movement off the ball is the reason Gor Mahia often resorts to long balls. The player with the ball at his feet often has no choice but to hoof the ball forward. Sending long balls is tantamount to giving the ball away. This is especially true when you consider that both Sserunkuma and Blackberry both lack height.
Precise passing
You are highly unlikely to see Esperance use long balls. They pick out their team-mates with the precision of a surgeon. Even when the pass is via a header. Early in the first half, an Jouni picked out Akaishi with a precise header. Akaishi in turn chested the ball and unleashed a volley which was saved off the line by David Owino.
The art of precise passing is something that can only be mastered via structured youth development. These Esperance players have been doing passing drills since they were 12 or 13. Without structured youth development, Gor Mahia will not close the gap that currently exists between them and Esperance.
Four out if the five goals Esperance scored were the result a series of precise through balls.
Finishing
Having those precise passes without equally precise finishing would be a waste of time. Esperance players are very sharp in front of goal. You do not score 5 goals unless this is true. They are also calm , confident and clinical. Nothing is rushed. They often finish with one touch.
None of this happens by accident. These Esperance players have been working hard on their finishing since their early teens, once again thanks to structured youth development and even now as senior players, they still work hard at it.
Early in the second half on one of Gor Mahia's few forays into the Esperance danger zone , Timonah Wanyonyi sent a cross which found Akumu by himself at the far post. Crippled by lack of confidence , Akumu sent a feeble shot directly at the goalkeeper. You can tell that he was not used to being in such scoring positions. Whereas Esperance players have been practising such scenarios over and over , one could tell Akumu has not practised such scenarios enough because he quite simply was not sure what to do.
In structured youth development schemes, all players work in finishing and all players work in defending regardless of which position they play.  The results is that even a defensive midfielder is polished enough to take such a chance with confidence. Look at Harry Afful who scored the 4th goal for Esperance. He is a defender/defensive midfielder.
Fitness
It was clear that the Esperance players were in much better shape. Everytime a Gor Mahia player got the ball, he was immediately surrounded.
Gor Mahia on the other hand gave Esperance players plenty of room to operate. And if you give such teams room, they will slice your defence to pieces.
Esperance were quicker to the ball. They won all the 50-50 battles and Gor Mahia often had to make a desperate lunge to get to the ball. One such deperate lunge caused Gor Mahia to concede a penalty in the first half. It looked like Akumu was much closer to the ball. But the Esperanc player outran him forcing Akumu to react with a rash challenge. Thankfully the resulting penalty was wasted. In past years, Gor Mahia had players like Allan Thigo and Abbas Magongo: 90-minute men who covered every inch of the field. Yet Esperance have several such players on their team.
In fact those Esperance players were so quick to the ball that one would be forgiven for thinking that they were on performance enhancing drugs. But it all comes down to having a qualified trainer who can customize a fitness regimen for each player to get them into the kind of shape required to play a pressing game. The pressing game that Esperance played caused all kinds of jitters.
Tactical aspects and defensive formation.
Watching the game , it became clear that Esperance had identified a number of weakness in the way Gor Mahia defends. They then worked on strategies to exploit these weakness. And in typical North African fashion, they worked on it and perfected it in practise.
Whereas Gor Mahia's defence was often caught flat footed and failed to pick up a runner, Gor Mahia strikers were almost always surrounded. Of course it helps that Gor Mahia's style of play is highly predictable.
Where to go from here
The largest lesson that must be be learned from this is Gor Mahia must enhance the calibre of its players. Passing, shooting, tactical awareness, coordination and movement must all improve.
Once again none of the players who played on Monday are to blame. They tried their hardest. It just so happens that Esperance players were of a higher calibre due largely to better structures. In fact watching this game, it becomes clear why most Kenya players do not make it in Europe.
Some of these issues can be fixed in the short term. But the vast majority can only be fixed with long term solutions namely structured youth development. Gor Mahia must come up with their own youth structures instead of depending on Sadili whose coaches may or may not be qualified youth coaches. Gor Mahia like every other Kenyan team has become too dependent on signing players who while individually talented, are lacking in key fundamentals of the game. And when they play together, the symptoms are magnified.
Yet youth development is just one of the aspects that seperate Esperance from Gor Mahia. Aside from having a huge budget that is bigger than the budget for Kenya's ministry of sports, Esperance also have their own facilities and an asset base which they build on every year. Gor Mahia has no asset base and no facilities so it is difficult to even address issues like youth development adequately. I would like to say the club has a long way to go but they haven't even started the journey yet.