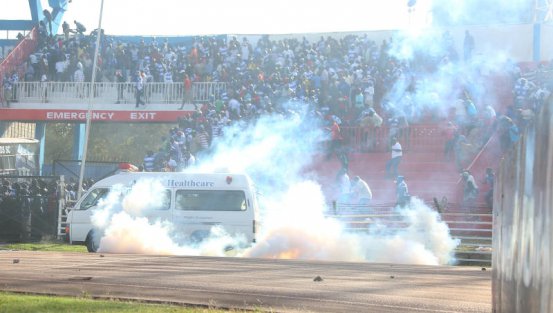 The Kenya Premier League has awarded Gor Mahia all three points from the abandoned mashemeji derby encounter from last weekend. The match was abandoned in the 65th minute after the referee awarded Gor Mahia a penalty following a blatant handball by Jackson Saleh of AFC.
In a letter to both clubs, KPL stated: "In accordance with Rule 3.4 (b) abandoned matches and 7.8, Responsibility of Clubs for Misconduct, the AFC Leopards SC supporters caused the abandonment and in accordance to Rule 3.8, Forfeited Matches the match is awarded to Gor Mahia FC on 2-0 basis and any yellow or red cards awarded during the match are valid and will be counted."
KPL chief executive Jack Oguda told Daily Nation Sport on Tuesday that the two clubs have been summoned to appear before the Independent Disciplinary and Complaints committee (IDCC) next Wednesday on the same.
In another show of poor sportsmanship, AFC have announced that they will appeal the decision.
"We are definitely going to appeal the ruling. We were the away team, hence not responsible for security. We will present our case to IDCC," said Asava Kadima the AFC secretary general to the Nation.
Gor Mahia official Ronald Ngala has told off AFC officials.
"Why do they (Leopards) claim that there was no security?"
"There was adequate police officers and the policemen take orders from their bosses and not Gor officials. Why did Leopards fans find it so hard to let the match continue?" posed Ngala