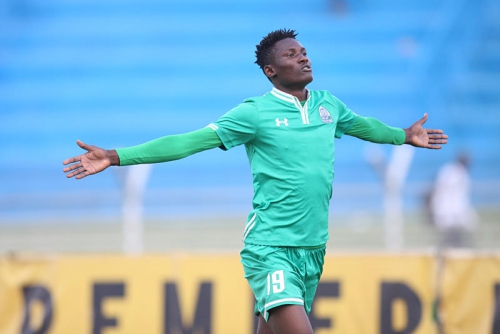 Any thoughts that Gor Mahia would take their foot off the accelerator after their superb first leg were quickly banished at Afraha stadium on Saturday when Gor Mahia methodically demolished Chemelil Sugar 4-1.
This match will be remembered for a number of factors:
Four Star Olunga
First off Michael Olunga made history when he scored four goals in one match. This author cannot remember the last time a Gor Mahia player scored four times in one match. One might have to go back to the free scoring days of players like Hezborn Omollo, Maurice Ochieng "Sonyi" and Ouma "Chege".  Indeed this season is starting to look like the 1984 season when Gor Mahia scored in incredible 80 goals.
The accuracy and poise with which Olunga took those goals is something to marvel at. But each of those goals were the result of well constructed moves and accurate assists. Olunga must thank his team-mates because these were all team goals.
"It is a good omen to start the second leg like this. In fact, it has given us a lot of morale and we are determined to do even better," Olunga said to the Standard.
Even Olunga seems to understand that this was a superb and tactically astute team effort, Which brings us to the second point.
Tactical Switch.
Coach Frank Nuttall showed once again that he is a master chess player. Chemelil appeared to have found a formula for stopping Gor Mahia in the first half. They had much of the possession, they stifled Gor Mahia strikers and had several attempts on goal in the first half. But whereas coach Mururi stuck to his first half switch, coach Nuttall made a number of tactical changes which sliced open the Chemelil Sugar defence in the second half. The ability to think quickly and make adjustments according to the flow of the game is what separates excellent coaches from ordinary posers.
Video highlights
There is Plenty to cheer
Gor Mahia are still 12 points atop the standings with an incredible 34 goals scored and only 7 goals conceded. This season has seen some amazing performances for Gor Mahia. There was the classic goal by Kagere against All Stars. There is the sudden emergence of Ali Abondo as an international calibre player. And you cannot forget  Collins Okoth's ascendancy to captain of Harambee stars. There is also the fact that  four out of the top three leading scorers in KPL are from Gor Mahia. And of course Olunga's heroic performance on Saturday and more yet to come. The way Gor Mahia are playing now, we should start seeing the kind of crowds we saw in 2010 and 2011.