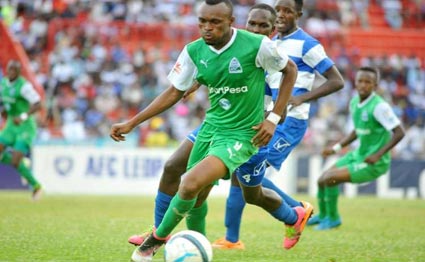 The third edition of the 2017 Mashemeji derby is here. This particular derby finds Kogalo a good 20 points ahead of their rivals. And Kogalo have won the last three matches against Ingwe by a total score of eight to zero. However on derby day anything is possible. The favourite typically does not come out on top. This has been the case over the past 49 years in which this derby has existed. The reason being that on derby day, the players usually give their best performance. As such current form is not a good indicator of who will win.
Indeed Tobias Ocholla, a veteran of many derbies has warned Kogalo not to get carried away by their current form.
"You cannot predict who will carry the day in a derby but history shows us that a team that is struggling usually comes top. Gor Mahia has the upper hand going by their form but it will depend on how a team comes out of the block. They need to be cautious." said the Kogalo legend popularly known as Jua Kali to goal.com.
Besides that, AFC will be buoyed by their hard fought win over Tusker last Wednesday.
"AFC Leopards performance against Tusker is a morale booster to them, but usually in a derby, the character of the coach also play a big part on who carries the day,"
Of the players on the field, the one who has played in the most derbies is Gor Mahia skipper Musa Mohamed.
"I am surprised to have played in all those derbies. 13? It's a good feeling to be involved in a derby because any player would wish to play such a big match," said Musa.
Mohamed's experience will be crucial if Gor Mahia are to win and protect their six point atop the Kenya premier league.
Coach Dylan Kerr, who is coaching in his first derby, will count on in form striker Meddie Kagere who scored the midweek goal against Rangers and has scored in the last two matches against AFC. He will likely pair up upfront with fellow Rwandese Jacque Tuyisenge. While the midfield will be anchored by Philemon Otieno with Walusimbi and Muguna providing creativity.