Gor Mahia is one of the teams that has been selected by the government to play in a series of friendly matches to commemorate Madaraka day. On June 1, they  will contest Madaraka Day Cup against Nyeri Combined, a team composed of best players from Central region.
Sports ministry said the two sides have been picked by the Government to vie for the Cup in order to promote national cohesion among the youth during this electioneering period.
"The sides are a representative of most volatile regions in Kenya politically, it is on this premise that the Government has brought in the two in order to promote peace and harmony as we head towards elections," Carolyne Kariuki, Principal Sports Officer, State Department of Sports, said to the Standard.
Kariuki urged communities in Nyeri to come out in large numbers to watch this historic match, which will also act as a talent search for other teams in the region.
CEO Lordvick Aduda says the players will use friendlies to maintain their fitness during the FIFA break.
"As you know the Fifa calendar is just around the corner and Gor Mahia has ten players, who have earned call ups in their national teams. The players will use the Madaraka Day Cup as their last major outing before they link up with their respective national teams," said Aduda.
Previous tours by Gor Mahia to this region have been successful with large crowds turning out to watch. For Kogalo it is an opportunity to expand their fan base. A forward thinking EC would use this opportunity to appeal to impressionable youngstars in primary school so as to build a future fan base but also use this opportunity to sell club merchandise.
Ndirangu to use Sportpesa cup as a springboard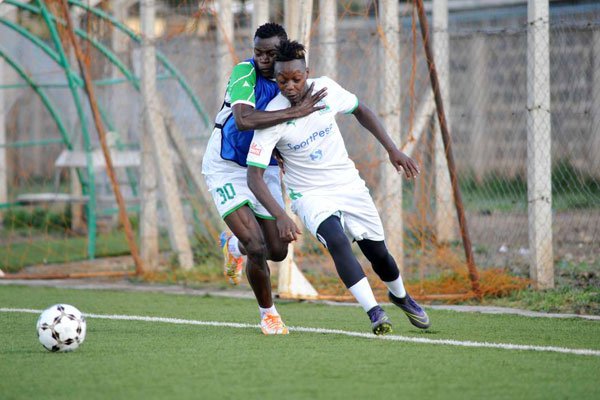 After the Madaraka day friendly, Gor Mahia will leave for Tanzania where they will play in the inaugural Sportpesa cup. Several players who are on international duty will be missing the squad. This offers an opportunity for players like John "Softie" Ndirangu who is determined to seize the opportunity.
"The tournament comes at an opportune moment for me.  I have not had a lot of play time as I'd wish at Gor but I remain committed to the team's targets and when I get my chance I will use it. " he said to sportpesa news.
Ndirangu who first came to prominence as a Nakuru All Stars player, is determined to fight for a first team place at Kogalo.
"I will not tire from fighting for my place. The coaches have been encouraging and I can look to the future with hope," he continued.