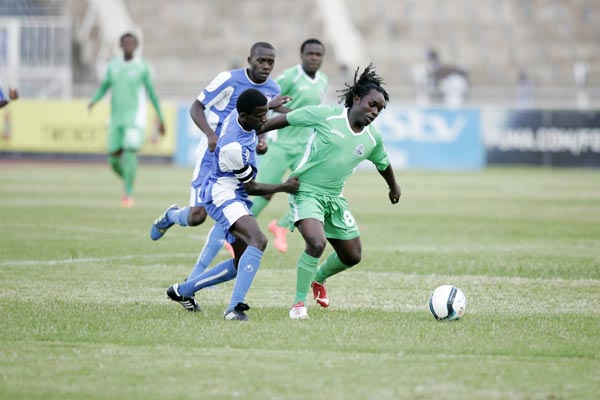 Gor Mahia secretary general Chris Omondi has indicated that the club has opened contract talks with Ugandan talisman Dan Sserunkuma.
"We are in talks with him and he has shown a willingness to remain with us. He knows what is on the table and we know what he is worth; so that is where we are," said Omondi to the KPL website.
Sserunkuma has played a pivotal role in the club's success over the past 3 years and fans will be eager to see him renew at the club after his contract runs out in December.
Omondi also denied rumours that are running rampant that Sserunkuma has already agreed to terms with Simba of Tanzania.
"We have not received any official communication from Simba. These are just things we are reading on social media but nobody from Simba has approached us on the same," continued Omondi.
Sserunkuma for his part has remained silent on his future.
"At this point, there is bound to be many rumours but I don't want to get involved with that. I have my agents doing their part, and I will make that decision when the transfer window opens," he said a fortnight ago before jetting out to Uganda for international duty.
Mutiso to undergo another surgery
Gor Mahia winger Innocent Mutiso who missed most of the 2014 season, is set to miss at least half of the 2015 season because he will undergo surgery before the end of the year. Mutiso's last injury occurred during the GoTV shield match against GFC 105.
Mutiso praised the club for treating him well during his injury.
"It is been tough to be out for so long but I am confident that I will regain my fitness and fight for my place in the first team,"
"The club has treated me well and I look forward to when I return to also give back through my performance on football pitch, it is the best way I can thank the entire Gor Mahia family for standing with me during my injury."
Mutiso scored one goal this season and it was a gem, perhaps one of the best goals scored this season in the Kenya Premier League.
Mutiso was elated to see Gor Mahia retain the title they won in 2013
"I am happy that we won, I am happy that my teammates won it for us while I was injured. I look forward to next season and I hope I can contribute to our run when I return.
"My desire is that we can retain the trophy again next season to keep it in our cabinet, I hope that happens because we have quality in our squad and motivation of fans is tremendous."