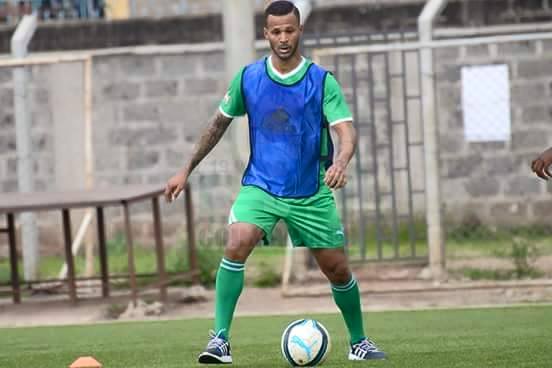 The much vaunted acquisition of Brazilian Thiago Lima Da Silva appears to have come a cropper. According to Ngala, head coach Jose Fereira has expressed concerns over the player's fitness as the striker has not featured in competitive football for long and has requested for more time to monitor the player closely. He is expected to give his report over his assessment of the Brazilian on Tuesday 21 June, a feedback that will guide the club on whether to sign the player or explore other options.
"The coach has expressed some concerns over his fitness levels. He has been out of action for long and is not in proper shape to play at the moment. The coach requested for more time to look at him and we are expecting a feedback next Tuesday. If the coach thinks it will take longer for him to be ready to play then we will have to look for other options" said Ngala according to futaa.com
Thiago Lima who had already been nicknamed as "Thigo" after the legendary high priest of Gor Mahia football Allan Thigo. However he has not proven worthy of that name either in training or during his appearance against Naivas. And the Macau League where he scored 15 goals is several notches lower than the Kenya premier league.
If this deal falls through, it will be the second time Gor Mahia has failed to do due diligence on a Brazilian player. In 2012, another Brazilian Giovanni Rodriguez Bissolli was also declared unfit by then coach Zdravko Logarusic. Whereas last time Bissoli was recomended by an agent, this time however it was Ze Maria who recommended him.
Gor Mahia will now search for an alternate striker. Fans wanted Meddie Kagere back. But that is complicated by the fact that Kagere may already be in negiotiations with arch rivals Ingwe and by the fact that Aucho's move to Glasgow Rangers is not complete.
When asked why he chose Da Silva instead of Kagere, Ze Maria had earlier said he did not think that the Rwandese striker would repeat his success from 2015.
You know Kagere had a good history here at the club but that wouldn't have repeated itself when I refer to the past. Kaka did well at AC Milan but when he returned, he didn't replicate his earlier shows. Ibrahimovic (Zlatan), Beckham (David) both suffered the same, it's not easy for these things to repeat themselves in the world of football, I am not discrediting Kagere, he is a good player but this would have been difficult on his side,
"We need other things, new energies in the squad. Thiago is a new player who has a good reason to do well because he is on the continent for the very first time. He has quality, a strong player and hope he will get time to demonstrate that for the team," Ze Maria said.