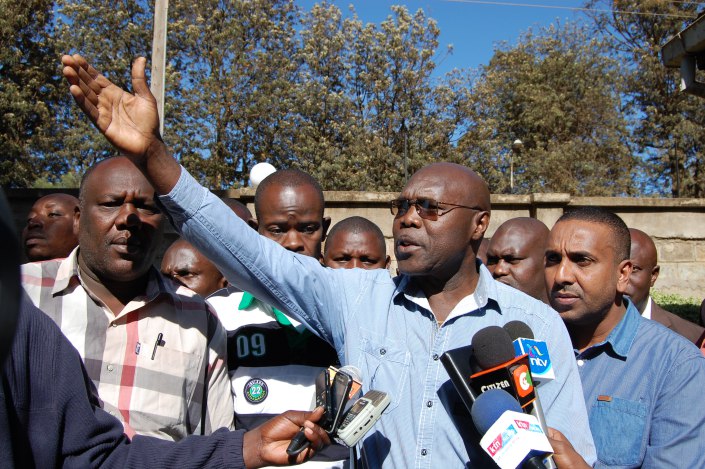 Gor Mahia chairman Ambrose Rachier has written a stern letter to Kaizer Chiefs seeking payment of the agreed upon transfer fee for Godfrey Walusimbi. In a letter posted on goal.com, Rachier gives Kaizer 10 days to pay.
"We in conformity with Article 12b (3) of the Fifa regulations on the status and transfer of players are putting Kaizer Chiefs in default of payment (overdue payables) and if the payment is not received within the next ten days from the date of this notice, we will scale this matter before the competent body at Fifa without further notice." the letter says.
Kaizer Chiefs had earlier stated that they already sent the money but Rachier is adamant that the transaction did not go through
"Our bankers have established from Nedbank that as opposed to your claim that money was sent to them, it was returned to your bank, and no such transfer ever took place in the first instance. Our request to you to show documentary proof of your claims have equally not been forthcoming." continues the letter.
Fans save Shakava from being evicted
Gor Mahia organizing secretary Judith Nyangi announced in her social media pages that fans came to the rescue of Gor Mahia skipper Harun Shakava who was about to be evicted. They paid his rent for this month. A report in Nairobi news states that Shakava's rent is Ksh 28,000 and fans raised Ksh 28,000.
"Thanks so much Dandora sharp corner branch for paying rent for Harun Shakava," said Nyangi.
On Wednesday, coach Dylan Kerr told the media that Shakava did not play the match, which Gor Mahia lost 2-0, because his house in Nairobi had been locked for defaulting on rent payment.
Sportpesa advance money to bailout Gor Mahia
Sportpesa CEO Karauri has announced that they will give Kogalo an advance to help them meet August salaries which have not been paid.
"We haven't gotten to the bottom of it (crisis), we will be meeting the clubs leadership next week but we are giving them some of the sponsorship money in advance to take care of whatever issues they have for now. Actually it's just some money that was due at the end of the month, but we will be sending it over to them immediately." said Karauri to Nairobi news.
Earlier Gor Mahia CEO Lordvick Aduda admitted that August salaries were late.
"We regret the delay in payment of August salaries but we request the players to bare with the situation and adhere to the contracts they've signed with the club as we tussle to rectify whatever has cost the delay," he told Nairobi news.