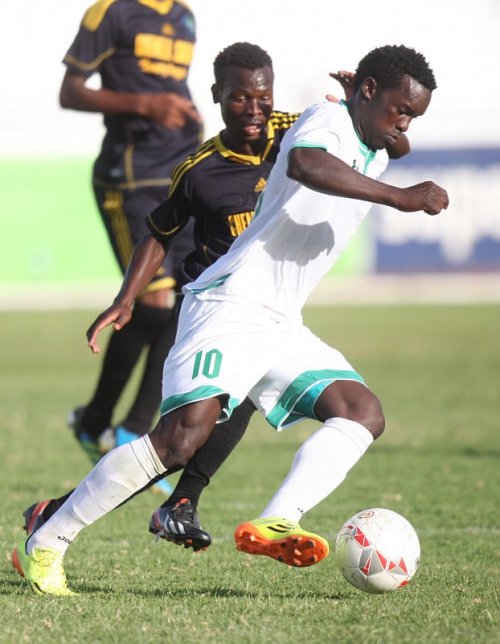 courtesy of futaa.com
Khalid Aucho opened his scoring account for Gor Mahia as they beat Chemelil Sugar 3-1 in a Kenyan Premier Match played on Sunday 22 March at the Nyayo Stadium from 1615hours.
Aucho, Ali Abondo and Meddie Kagere scored Gor's goals while Meshack Karani scored Chemelil's consolations goal.
Scare for Chemelil's Onyango
Gor hit the ground running and in the third minute were awarded a corner that was brought in by Abondo but it was too wide. In the 11th minute, Fredrick Onyango punched the ball back into the field of play and it was picked by Michael Olunga who managed to hold off two Chemelil players before setting up Abondo who handled the ball before he could shoot and the whistle was blown.
There was a scare for Chemelil in the 12th minute when Onyango rushed out of the box to try and prevent Olunga from racing into the box but he missed the ball before fouling Olunga. He however was not sent off and was given a yellow card. The resulting free-kick was brought in by Abouba Sibomana and forced Onyango to tip the ball over the bar for a corner that was fruitless.
Aucho, Abondo score
In the 26th minute, Chemelil missed a chance to score after Karani was disposed in the box and the clearance found Stephen Wakhanya outside the box but he shot over the bar. In the 36th minute, Gor breathed a sigh of relief after Harun Shakava made a last minute tackle to deny Wakhanya a shooting chance inside the box. In the 41st minute, Kagere won a free kick that was brought in by Sibomana before it was cleared by Chemelil, it however found Aucho who exchanged passes with Olunga before he released a hard shot into the back of the net. Two minutes later, Olunga scored but the flag was already up.
When play resumed in the second half, Onyango was forced to make a finger tip save from a Sibomana free kick. A minute later, Gor doubled their lead through Abondo. This followed the subsequent corner that found Olunga in the box but his shot was blocked only for the rebound to fall on Abondo who made no mistake from the right side to give Gor their second goal.
Karani, Kagere score
In the 67th minute, Aucho missed a chance to hit a brace after a good Olunga found him in the box but his shot went wide. In the 80th minute, Olunga crossed in the box but with Onyango already out of his line, no Gor player could connect with the cross.
With four minutes to the final whistle, Chemelil pulled one back through Karani. This was after a Chemelil free kick that was brought in by Collins Kisuya and Boniface Oluah came off his line to try and pick the ball but Dennis Onkangi beat him to it before the latter pulled the ball back for Karani to put into the empty net.
Any hopes Chemeili may have had of a comeback were killed when Kagere scored his second goal and Gor's third goal. Godfrey Walusimbi played a one-two with Olunga before the former made a run into the box but he was disposed by Kisuya with a sliding tackle only for the ball to find Kagere who made no mistake from close range.
The win means Gor now have nine points from three games while Chemelil have a single point, gained from their barren draw with AFC Leopards.
Gor Starting XI:23. Bonface Oluoch. 5. Musa Mohamed. 14. Karim Nizigiyimana. 3. Abouba Sibomana. 2. Godfrey Walusimbi. 10. Khalid Aucho. 6. Collins Okoth (20. Ernest Wendo 90′). 18. Harun Shakava. 22. Meddie Kagere. 30. Ali Abondo (25. George Odhiambo 89′). 19. Michael Olunga.
Unused Subs: 1. Jerim Onyango. 15. Bernard Odhiambo. 7. Ronald Otieno. 17. Eric Ochieng. 9. Timothy Otieno
Chemelil Starting XI: 30. Fredrick Onyango, 3. Samuel Oluande ( 19. Jonathan Mwaniki 78′) 15. Collins Kisuya, 5. Omino James, 9. Charles Odero (c), 2. David Ojwang (27. Dennis Onkangi 70′), 26. Smith Ouko,12. Murage Daniel, 14. Maxwell Onyango (17. Tony Opondo 50′), 18. Steven Wakhanya, 24. Meshack Karani
Unused Subs: 1. John Waw, 23. Kevin Migunde, 20. David Oriki, 7. Alloys Mangi,
Starting Line-Up
Bonface Oluoch – Musa Mohamed – Karim Nizigiyimana – Abouba Sibomana – Godfrey Walusimbi – Khalid Aucho – Collins Okoth – Harun Shakava – Meddie Kagere – Ali Abondo – Michael Olunga.
Subs: Jerim Onyango – Ernest Wendo – Bernard Odhiambo – George Odhiambo – Ronald Otieno – Eric Ochieng – Timothy Otieno