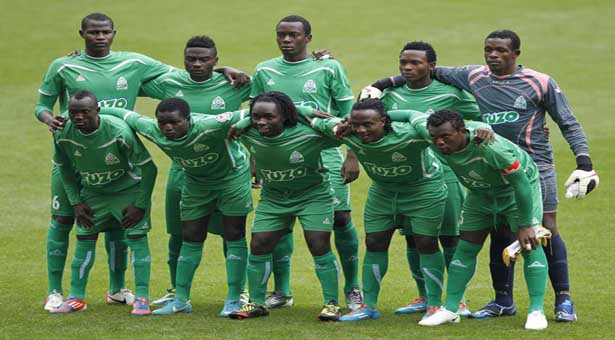 Gor Mahia will seek to recover from their disappointing scoreless draw with Thika United when they take on newly promoted Top Fry Nakuru All Stars.
The match will take place at Nakuru's Afraha stadium. All Stars have not had any success since they were promoted. They have lost all five matches and their players seem overwhelmed by the standard of play in the Tusker premier league.
But coach Williamson has said he will not take them lightly.
"There is no easy game in the league any body can be any one and I'm sure they will win the love of their supporters. We expect a tough match since they are prepared to face the champions.
"We have set standards this season and we will try and maintain them since our fans demand that. When we draw we feel like we have lost the match so we have four clean sheets so far and we hope we can keep the fire burning," Williamson told Capital Sport Friday during their training at Nairobi's City Stadium.
The display against Thika on Wednesday was drab and uninspired. Fatigue was likely a factor. But Gor Mahia will not be getting any breaks in that regard as they will be playing their third match in a week. Nevertheless, they have talent in reserves. Hopefully coach Williamson will have observed who is tired in training and give others who have not played much a chance. Players like Shaban Kenga, Jared Obwoge and Innocent Mutiso who are relatively rested could be be given a run in the starting line-up.
Missing from the squad will be Musa Mohamed who is scheduled to attend trials in South Africa, Ugandan Israel Emuge and Kevin Oluoch.
Jerry Jagoal may return
One possible returnee is skipper Jerim Onyango who called upon fans to turn up in Nakuru in large numbers.
"I'm very grateful to be back since I have been out for two weeks and luckily I'm fit and I just hope for a win come Saturday though it's a tricky fixture its not that easy as its seen in the papers so we will treat them the way we have taking on other big teams.
"I'm seeing a good season ahead once more since we have able goalkeepers (David Juma and Joel Bataro) who can replace me any time and as the defence our motto this season is to keep as many clean sheet as possible and midfielders to supply the ball and the forwards to score," said he to capital sport.