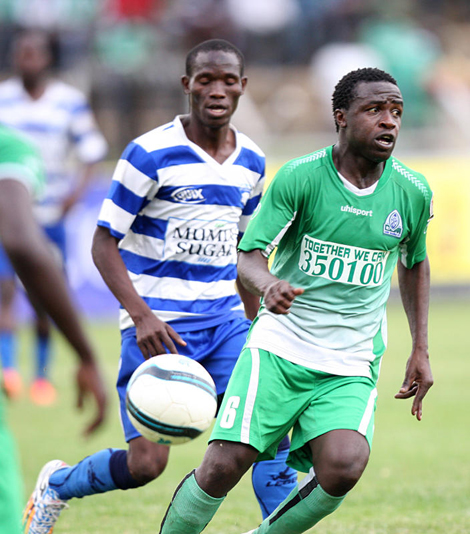 The Gor Mahia technical bench and medical staff will be closely watching defender Karim Nigiziyimana and midfielder Collins Okoth, both of whom picked up injuries during the tense match against Mathare United on Sunday.
Okoth pulled a thigh muscle and had to be substituted with 30 minutes of play remaining. Nzigiyimana limped off minutes later with a swollen knee. Gor Mahia returns to training on Tuesday, focusing their energies on the forth-coming regional competition which starts on Saturday.
Coach Frank Nuttall expressed hope that the duo only suffered slight injuries.
"I hope they only suffered knocks and not serious injuries. Karim  and Collins are very important in the team, they play big roles and it will be a big loss if their injuries are serious," said Nuttall to supersport.com
Nizigiyimana has not only been solid defensively but has been a key pillar of the Gor Mahia attack with his inch perfect crosses. He currently leads the team in assists. The relentless Gattusso has been solid for the club, patrolling the defensive midfield area and covering efficiently for overlapping full backs.
Okoth probably just needs some rest since has played in numerous games since last year for both club and national team.
Mulee talks up Gor Mahia's chances
Former Harambee Stars coach Jacob "Ghost" Mulee is convinced that Gor Mahia will perform much better at this year's CECAFA cup.
"This time round I am convinced Gor Mahia will play better and perform well than last time out in Kigali, Rwanda, when they left tourney without winning a single match. They have a good side, and their run in the league is not a fluke, it is a quality side which I believe will cause anxiety in the tournament. I think they will go all the way to the semis, and then from there u know it is anyone's game. They can even bring us the title, because they are equally competitive with full of experience." said Mulee to goal.com
Mulee however expressed concern about Gor Mahia's defense which of late has appeared porous after going 10 matches without conceding a goal.
"Despite having good strikers, midfielders and defenders, my worry though is in their central defense. It is weak, truth be told. Musa Mohammed and Shakava are good, but at this stage, experience is vital. I hope Dikir Glay will be available for them; they need him in the team. For example, the goal Mathare United scored against them over the weekend, with better central defenders that cannot happen." he continued.
Whereas Gor Mahia assistant coach Bobby Ogolla has insisted that a strong attack is Gor Mahia's best defense, Mulee thinks such an attacking formation can be exploited by good teams.
"Their high line is also risky; we saw that against Mathare United having four offensive players against two defenders, they will need to work on that. It will take a single match for the opponents to know your weaknesses and capitalize on them. Nevertheless, I think the team will perform better this time round and I am confident last edition's incident will not happen again." continued Mulee.
Even Somalia paid for their representatives
Gor Mahia appears to be the only CECAFA cup side whose federation declined to facilitate air tickets. Sam Nyamweya flatly refused while suggesting that no  agreement was ever reached that made it a requirement for national FAs to facilitate air travel for the representative teams.  Nyamweya claimed his federation was too broke to pay for tickets. However war torn Somalia FA chairman Shafi'i Mohyaddin Abokar insisted that the agreement was valid and that each FA was indeed required to facilitate air tickets.
"We facilitated everything for the team to ensure their participation of the competition, because Somalia had never missed a single CECAFA competition and we want to keep that record alive, he said according to futaa.com.