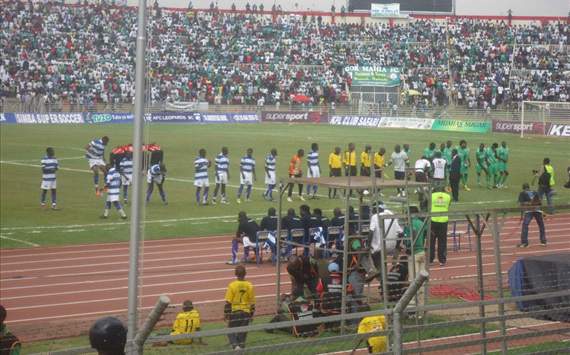 The Kenyan El Classico aka Mashemeji derby is here yet again as Kogalo face Ingwe this Sunday. This could not have come at a worse time for Gor Mahia as the club has lost 5 straight games without scoring.
Nevertheless, most fans saw some light at the end of the tunnel given how well the team played in the first half of their midweek match against defending champions Tusker. The effort was there. There was better coordination. But yet again the club's biggest achilles heel which is scoring was yet again in evidence. Not only the like of striking power but the inability of the playmakers to create clear cut chances. "We had a great first half but failed to convert our chances" said coach JBO after the game.
 Also Gor Mahia does not seem to have any goal poachers who can score from half chances or simply poach a goal even against the run of play.
Still the Kenyan El Classico does not respect current form. Just last year, Kogalo were in a major slump that saw the departure of coach Zico. Yet they pulled themselves out of the ashes to beat Ingwe in the FKL cup final. And this has rung true for years. In 1991 Gor Mahia won the league handily with a superior team that had players like Felix Otieno, Allan Odhiambo, Jared Achieng, Tom Odhiambo etc. When playing against AFC, they flat out dominated and outplayed them. Felix Otieno in midfield looked like he had no peers. Yet AFC won on both occasions. They created one chance and used it.
And of course current coach Bobby Ogolla was the pillar of the defence in 1984 when Gor Mahia was high flying, scoring 80 plus goals in the league, winning by a huge margin, completely outplaying AFC, yet loosing 3 straight times to Ingwe.
Based on the evidence of this week's game, Gor Mahia are slowly emerging out of their slump. They will have worked hard on their weaknesses upfront. "The lack of goals is of particular concern and we have to work on our attack before facing AFC" said coach Bobby this week.
Another area of concern is the defensive lapses. Ferroviario must have studied tapes of the club and saw ways to capitalize. Its interesting that on both occasions, their midfielder who has a rocket of a shot was given free space by Kogalo defensive midfielders and allowed to shoot against the hapless Jerim Onyango who never stood a chance. We all know that Dutch coach Jan Koops wil have studied these weaknesses and come up with ways to exploit them. One should hope that the technical stuff will have plugged the holes by Sunday.
Bobby Ogolla has called upon fans to help lift the morale of the players by cheering them. "No one should judge us based on the most recent results" said Bobby this week. It is commendable that on Wednesday , many fans continued to cheer the team even when they went down 2-0. The playing unit will need this kind of support as they try to dig themselves out the current slump. So let the 12th man turn up in large numbers and cheer because you know AFC fans will turn out in droves.