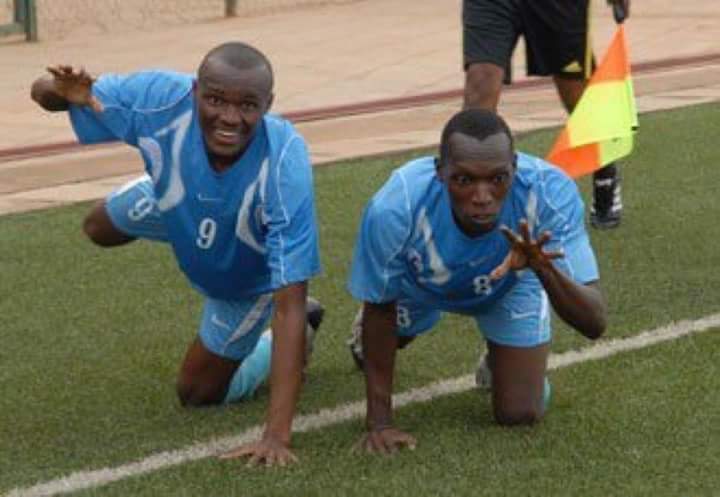 Meddie Kagere and Jacque Tuyisenge have previously played together for Police FC of Rwanda. This happened when Gor Mahia first tried to sign Kagere in 2011. By last weekend, Kagere had not received a work permit. Which is why he did not suit up for the match against Thika United. With the work permit issue sorted out, the duo are set to resume their partnership which has the potential to have a devastating effect on opposing KPL defences.
"I know Meddie for long because when I was starting off we played together at Police. He is an experienced striker and I believe if the coach decides to play both of us, we can do great things," said Tuyisenge to Capital FM.
Kagere for his part says he feels at home and is ready to resume the fine form he displayed in 2015.
"I am very happy to be back because Gor is like home to me and the fans, players and officials have welcomed me. I am feeling ready to get back to the pitch and do what I do best, scoring goals. I know it will be difficult because I have stayed for six months without competitive football," Kagere told Capital Sport on Thursday afternoon after scoring and providing an assist as Gor demolished fourth tier side Butterfly FC 4-0 in a friendly match.
If coach Ze Maria had any doubts about Kagere's abilities, sure he must be convinced by now having watched Kagere play in two friendlies and in training.
"I have played in two friendly matches and I feel I am ready and if given a chance, I will do my talking on the pitch. I want to do better than I did last year and repay the faith Gor has shown to bring me back" continued Kagere.
The other goals against Butterfly were scored by Thiago Silva who scored twice and Baron Jobita. Ze Maria now admits that Kagere is already ahead of the curve compared to his Brazilian compatriot.
"We saw that Meddie had been here before and knows the league well and therefore, it would take him less time to adapt. Thiago is still here with us, training and daily he is getting better. Hopefully, next season he will start playing in the league," coach said to Capital Sport.
Ze Maria went on to confirm that fans could see the eagerly awaited Tuyisenge-Kagere partnership this weekend.
Kagere is a good player and of course with the history he has in this team, he can do well. Jack (Tuyisenge) is in good form and if the two can have a good partnership, then I think we will do well. I believe he will be in the team this weekend and so let's see what he has to offer for us," the coach nicknamed 'Ze Maria' said.
As for Crispin Odula, he is still sorting out the issue of his international transfer certificate.
"I had family problems which forced me to come back home then my contract ended. By the time we were getting back to negotiations the window was closed and so I chose to come back home. Gor gave me a platform and hopefully I can work hard enough to get playing time," Odula said to Capital FM.