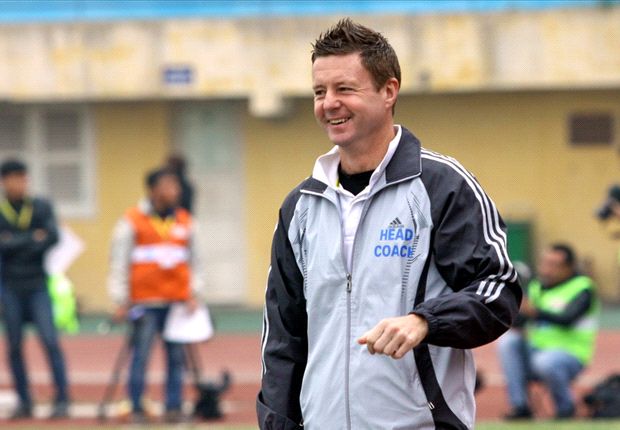 Gor Mahia will take on Nakumatt on Wednesday as the second leg of the 2017 Kenya Premier League officially begins. New coach Dylan Kerr realizes that it is difficult to beat the same team twice in the same week.
"It is going to be a tougher match as compared to last weekend. They, Nakumatt, will be targeting revenge and they will make it harder for us. We need to work zealously and avoid mistakes, and the most important thing take our chances. They will want to get something from us," he told goal.com
Kerr is also working on increasing the tempo of play in order to give opposing teams less time to organize their defence.
"We have good players but we have to improve our tempo. I have seen our training being like that of the premiership in England. The tempo, the follow, the challenges and we now have to replicate that on the pitch, he told futaa.com
Another area of concern for Kerr is the blunt attack. Unlike past seasons, none of the Kogalo strikers are among the league's leading scorers.
"With African ability, stamina and endurance you can run all day. Now we have to work on the final third. Boniface (Omondi) had a one on one chance with the keeper he should have killed the game. Meddie (Kagere) had a couple of chances but he didn't utilize. That is football and we will learn from mistakes and work on them to ensure they don't happen again" he continued
Kerr also explained to futaa.com why Ernest Wendo and Boniface Oluoch were missing from the line-up.
"Wendo came back from Spain not 100 percent fit. After speaking to the physio and the doctor, I decided that I would rather lose Wendo in this match and not in six matches. His groin is not fully right. He has trained few days but he said it was a bit niggling, a bit sore" he said.
Wendo first picked up a groin injury during the match against Everton and should have been sidelined for rest.
Oluoch Kerr explained was in Kisumu to attend the burial of a friend.
"Boniface's (Olouch)close friend passed on so he had to travel to Kisumu for funeral. I expect him to be back on Monday. I know he is not only important to Gor Mahia but important to the whole country but he will have to get back the jersey from Fredrick, because Fredrick had a clean-sheet" he added.
Backup goalkeeper Odhiambo has an opportunity to challenge Oluoch for a place in the starting line-up. It is not clear-cut who is better. What favours Oluoch is his experience.
After a disappointing 2016 season in which the deduction of three points for fan misbehavior derailed Kogalo, the team led by skipper Musa Mohamed is determined toregain the title from Tusker.
"I feel good and I thank the players for fighting. The first half we dominated but in the second half they came out strongly and I am happy the way we worked to get a win" said Musa to futaa.com