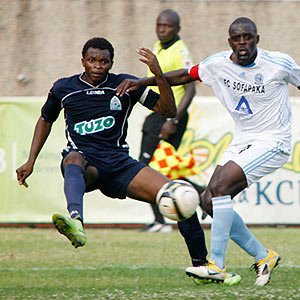 Winger Edwin Lavatsa was named as the DSTV player of the match following his stellar performance. Lavatsa gave the Sofapaka backline all kind of nightmares throughout the match. He made several runs down the flanks setting up team-mates and often leaving Sofapaka defenders for dead. It was one of those runs and the resultant cross that was knocked home by Kiongera.
The down to earth striker was quick to deflect praise to his team-mates. "We maintained the right discipline throughout the game but in the end it was my teammates' contribution to the game that made me stand out" Lavatsa told supersport.com
Last season started on a sour note for Lavatsa following a long term injury that saw him miss out on action for several weeks. He has slowly and gradually worked his way back to form. His recent form has seen the coach give him a place in the starting lineup unlike last year where he often came off the bench. "The coach has also shown a lot of confidence in me lately, giving me a lot of starts and I am thankful for that," he said. "It is the reason I am doing well and I want to pay back his trust even more" he added to supersport.com.
Coach Logarusic has no doubt taken note of his form. "Yes, Ssserunkuma was our top scorer last year and the best player in the league but at the moment, he is not at the right form to start. You can see Kiongera and Lavatsa are on form and their partnership is producing results. For Danny, I know his form will come much later because he is also picking up," Logarusic told michezoafrika.
Lavatsa's stellar performance is not limited to club. He acquited himself extremely well during the 2012 CECAFA cup and even scored Kenya's goal in the final against Uganda. His peformance saw him end up as one of the 5 players from the CECAFA squad that were selected to play against Burundi in the CHAN qualifier.
With his constant hard work and hustle on the flanks and ability to set up team-mates for goals, Lavatsa is sure to record several assists this season. Too bad KPL does not keep a tally of assists but this site will. As Nigeria comes calling for the 2014 World cup qualifier, it would seem that Lavatsa is the in form person most suitable to pair up with Dennis Oliech upfront for the national team.
Nevertheless , Lavatsa must continue to work hard on his game in order to maintain his place in the team for both club and country.  And given his youth, he still has the ability to add more dimensions to his game that will make him even more lethal.