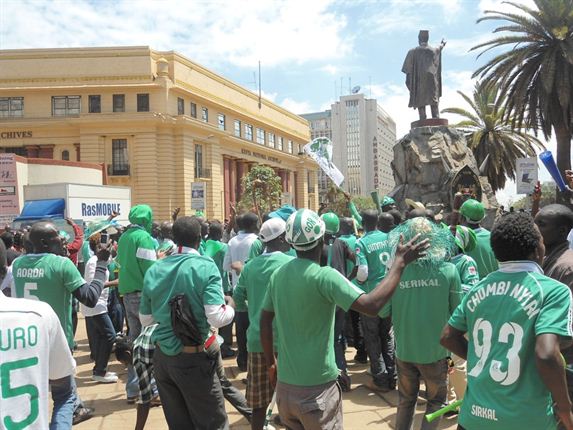 The Cabinet secretary in Charge of sports Hassan Wario, has come out strongly to warn fans that they would not be allowed to converge at the Tom Mboya statue anymore.  According to Minister Wario, any fans who converge at the statue will be arrested.
Gor Mahia fans are typically converge at the monument before matches.  Dr. Wario, in an address to the media ahead of the Mashujaa Day celebrations, called on the fans to keep off the monument or risk arrest.
"It has come to our notice that hooligans target the Tom Mboya statue and we are telling them to keep off because this is a monument of a hero yet they have been vandalizing it. It is very sad that this is happening and as a ministry we are keen to ensure that we stop this. We will repair the damaged ones but we will not hesitate to take action on people seen to deface such monuments, he said."
Several months ago, Minister Wario also lamented about hooliganism. In an agitated speech, Wario blamed clubs saying they should do more to stop the hooligans. According to him, the government provides stadiums while club fans damage the stadia.
"Clubs should take responsibility and deal with their fans. It is impossible to have a special police force to deal with that and I have talked to inspector general about it. It hasn't happened anywhere else in the world and there is nothing special about Kenya. We give you a stadium to use so ensure we get it back in good shape, he said."
We noted at the time that Mr. Wario was wrong. Clubs cannot control hooligans by themselves. They do not have the capacity to end hooliganism. It is the government, specifically the police that must deal with hooligans. This is how England dealt with its hooligan problem in the 1980s. It was not the clubs. It is the government that came up with rules on how stadia should be built, procedures for police and specific training for police. Known hooligans were banned from stadia and banned from traveling overseas to attend matches.
With regard to the Tom Mboya statue, it is indeed timely for the minister to act upon it. Fans absolutely do need to be prevented from defacing a monument of a respectable person or from defacing any public property.  However it leaves us wondering if Mr. Wario thinks hooliganism is the only problem afflicting clubs in Kenya.
Hooliganism is not the only problem facing clubs
The first thing Mr. Wario should understand is that clubs are the bedrock on which any national team is built. Without a strong club system, no country can thrive. Clubs provide the means by which young players are discovered, nurtured and developed into quality players. They provide the incentive for the youth to strive to become better players.  If the youth believe they can earn a living playing football locally, they will work harder at their game. The net result is that Kenya will have higher calibre players.  The most successful countries are those where the clubs have strong infrastructure including training grounds on which they can develop their youth systems. In Germany for example, the Federation has ensured that every club in the top tier league and in the second tier has sound youth systems in which players are scouted and nurtured from U-13 to U-16 and U19. It is no accident that Germany are consistently among the best teams.
If Wario really wants football in Kenya to thrive then he should start by getting clubs the assistance they need. Lets start at Gor Mahia. Earlier this year, Gor Mahia was slapped with a malicious KES 118 million fine by the Kenya Revenue Authority which even went as far as freezing all the club's accounts. It is true that Gor Mahia like many Kenyan businesses does owe the KRA money. But slapping the club with a KES 118m fine smacks of malice aimed at crippling the club.Virtuallu every sports organization in Kenya that pays salaries owes the KRA money. Even the Kenya Rugby Union owes tax remittances from from salaries that have been paid to Kenya rugby sevens players over the past few years. But only Gor Mahia was singled out for harsh treatment.
Crippling a club that is going to represent the country in the African champions league and the CECAFA cup is no good for football in the country. There should have been some assistance, perhaps mediation between the Ministry of sports and KRA.  Minister Wario can take the lead in harmonizing the way sports organizations remit taxes to the KRA and prevent malicious attacks.
Minister Wario can further help clubs by providing land to the top teams in Kenya. Who better than the government to assist both Gor Mahia and AFC to reclaim land they own in Embakassi. The availability of this land can make operating the club much cheaper. Gor Mahia pays KES 10,000 a day to use City Stadium whether its for the senior team or the U-19 team. In fact few clubs in Kenya have their own training ground, with the exception of corporate clubs like Bandari and Tusker.
With land of their own, clubs could also build gyms and it would make it easier to run youth development schemes which often requires multiple fields and even classrooms.
Wario can do a lot more to promote football clubs
As has been mentioned above, the only time Minister Wario ever mentions Gor Mahia or AFC leopards it is when condemning hooliganism. The only time Wario ever said publicly that he would meet club officials was when he wanted to discuss hooliganism. Far from promoting the club's Wario has done a lot to discourage fans from attending matches. Since all he says is about hooliganism, he has done a lot to discourage sponsors from wanting to associate with football.
Most fans who attend matches are peaceful. Most football matches are peaceful. Gor Mahia and AFC are not just about hooliganism. These are the points that need to be highlighted.
What he ought to be doing is personally attending football matches. Then telling fans that most football matches are actually peaceful. Only a few matches end in acts of hooliganism. He ought to be highlighting the positive aspects of club football in Kenya of which there are a lot. He ought to be highlighting the rich history and successes that club's in Kenya have accomplished. He ought to be outlining the steps the government to make stadia more peaceful so as to attract more fans to the stadia. Making stadia safer is not just about reducing hooliganism. Seating, security fences, security personnel, ticketing etc can all be improved by the government.
As former Gor Mahia official Faiz Magak once said of Wario, "His statements at the event was ill advised and ill timed – that was a national and international event thus portraying Gor Mahia and Kenya in bad light; as a leader he should be careful when addressing the public – he should use sport to promote peace not incite. It would have been better for him to call the stakeholders and talk to them as a leader rather than using the event to soil others' reputations " said Magak to futaa.com at the time.
On balance, Wario has not had a positive impact on the Kenya Premier league so far. His mere presence at several local matches would encourage fans to attend.
This column is not saying that hooliganism is not a serious issue that needs to be addressed. In fact Minister Wario is doing a good thing by highlighting behaviour of certain fans and warning them. This column is trying to encourage the sports minister to be more active in making club football better.More active in promoting local football.  It is a fact that the standards of club football in Kenya are currently below par. A significant reason is because many clubs are merely struggling to survive.  A stronger club system will making the results of the national team better in the long run.  The government and the sports ministry can help in this regard.