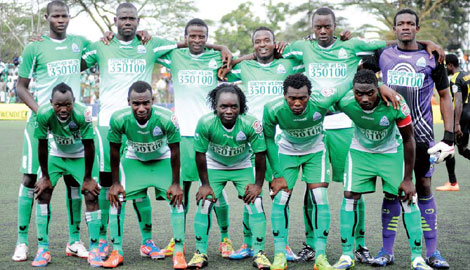 From the Nation
An advertisement that really stood out in the past week is the one touting the re launch of Nation FM from Easy FM.
As a certified advert addict this one could not escape my eyes more so because it had my beloved Gor Mahia as the subject.
In that advert, two men are seated on a bench presumably at a public park. The first man says: Waah! Imagine what will happen when the taxman closes Gor Mahia because of taxes.
Gor fans will really cry this time round. To which the second man responds: Mmmmh. But imagine what would happen if the more than 1 million K'Ogalo fans contributed Sh200 each. They would pay their debt and probably start a K'Ogalo Junior Club."
This is a brilliant advert by any standards and the copy writer must be commended. However, the writer erred in the small matter of a junior club because we already have one that is emulating their big brothers by posting impressive results. An apple never falls far from the tree, so they say.
POLITICALLY MOTIVATED?
Today I am revisiting the issue of the Sh118 million tax arrears which Kenya Revenue Authority is alleging we owe them. As my friend Murithi Mutiga wrote in his weekly column a few weeks back, the matter needs to be looked at afresh.
I am not saying that KRA played a political hand in the matter but for the average K'Ogalo fan the coincidences are just too much. First, Brookside, a company closely associated with the president's family terminates its sponsorship deal for a club whose patron is Raila Odinga, President Kenyatta's nemesis.
Immediately after that, KRA slaps Gor with the huge tax arrears claim. The taxman's claim that it was targeting other clubs as well remains hot air because so far we are yet to see another club slapped with such a fine.
I think it is time KRA told us how they arrived at the figure and come up with a way of solving this impasse. Of course de-registering Gor can never be part of such proposals.
Mine is a simple advice to the Green Army; sit tight, this is a storm we will ride out. Perhaps the most dramatic of the many headwinds that Gor has survived in the past was the order by former president Daniel arap  Moi for  the club to change its name.