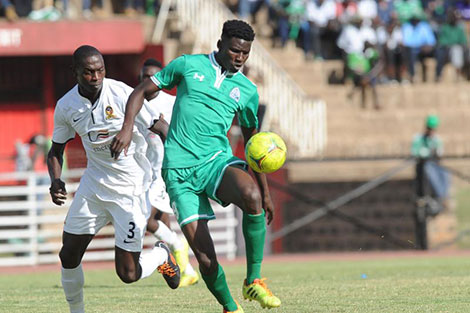 All three top Tanzanian teams have shown an interest in signing Gor Mahia talisman Michael Olunga. The 21 year old has earned rave reviews following his performances in which he destroyed both Young Africans. Azam coach Stewart Hall, who recently signed All Wanga from Al Merreikh has told the Standard that  Gor Mahia was asking for $200,000 (Sh20 million).
"This is a crazy price tag, but those asking for this money are not true representatives of Gor Mahia. "They are brokers who want to go in between for their own benefits," said Hall. "He is a young player and we can use him as one of our projects. He is tall and physically strong and can partner well with my captain John Bocco," said Hall.
Hall said he will engage the proper representatives of Gor Mahia with time to settle for the price.
Simba FC for their part are also interested in Khalid Aucho and Boniface Oluoch in addition to Olunga.
 Until Gor Mahia secures its finances, they will continue to be constantly  threatened by Tanzanian sides who have access to all manner of sponsorships. Yet a move to Tanzania very rarely pays off for Kenya players.
Former Yanga striker Boniface Ambani who was once top scorer in the Tanzanian league has advised Olunga against leaving Gor Mahia too early.
"I believe he can manage the pressure that comes with playing in Tanzania and I am not surprised that Simba want him. However, my advice is that he takes his time before making such a move. He needs to stay in Kenya for at least two seasons before going professional.
The biggest danger we have had with local players is that they rush to turn professional. For Olunga's case, he needs to grow and become mature first. He should not rush. He needs to build himself in the national team first." said Ambani to goal.com
Many former Gor Mahia players who went to Tanzania recently did not excel there, be it Kiongera, Sserunkuma or Rama Salim and even coach Logarusic. Ambani himself had to sue Yanga for backpay.
Nuttall to rest players
Gor Mahia coach Frank Nuttall has announced that he will rest key players in their Friday match against Sudan representatives, Al Khartoum.
"Since we have qualified for the quarter-finals with two matches to play, I will give more players a chance to play," said the coach in an interview. "I have a very strong bench and it would be wise to explore all the talents I have here by giving them a chance to play," said the coach.
Among the players who could be rested are Meddie Kagere and Michael Olunga. The rest will enable the players to recuperate after playing three  games in the space of 6 days.