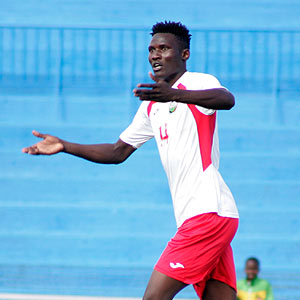 Michael Olunga is certainly the man of the moment in Kenya football. He carries on his broad shoulders, the hopes of many Kenya fans. For a long time Kenya has been largely dependent on Dennis Oliech to spearhead the attack. And for a long time there seemed to be no striker on the horizon ready to replace Oliech. That is until Olunga joined Gor mahia this season. Though he had a few flashes of brilliance while at Thika United, it is at Gor Mahia that Olunga has met his potential. His form at club level has been excellent. His form for the various national teams has been superb. Most notably his performance against Zambia where he was one of the few bright spots. Then there was his hat trick against Botswana in the Olympics qualifiers.
Olunga credits the performance against Mauritius to teamwork and a good game plan.
"We have started well and we want to build on that. We want to forget the bad run that we have been having for a long time and we want to take the win as a stepping stone for this campaign. "Hopefully we will post good result on Sunday,"
"It was a tough game but we came knowing we had to win for our nation and fans. We put a good effort and at the end of the day the result was positive. Everyone worked according to the coach instruction. The plan was to score early and this time round we defended as a unit because in our past games, we have been scoring early but end up conceding," said, Olunga to Capital FM.
Former Gor Mahia Coach Bobby Williamson also credits teamwork for the win
"It was a good performance. I saw a tremendous improvement in the midfield department, and the way the midfielders coordinated with the attackers was just perfect.
Harun Shakava who was a late call up to the national team, made the most of his opportunity by getting his name on the scoresheet. Shakava was one of the players called up as coach Bobby Williamson sought to change the team that lost to Zambia. The towering central defender who joined Gor Mahia from Kakamega Homeboyz has developed a knack for using his length to score goals.  It was his first goal for the national team and Shakava credits his club for his good performance.
"I feel my consistency at club level is paying off. I have been working very hard in all assignments and getting such a chance means a lot to me. I must thank my teammates and the entire Gor Mahia fraternity for the support not forgetting the national team coaches," added the former Kakamega Homeboyz defender. My target is to continue working to cement my place in the national team. It will not be easy, I know that but step by step I will get there." he said to futaa.com