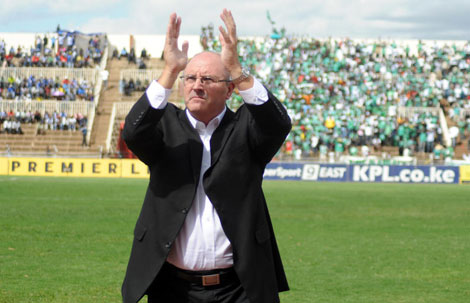 Gor Mahia coach Bobby Williamson has blamed poor defending for the loss to KCC.
"I am disappointed at how we defended because the two goals were just due to poor defending. Look at the first goal, poor defending, second goal, poor defending. That was a match that we would have won had we concentrated and defended well", he said to the clubs portal.
Indeed poor defending has been the bane of Gor Mahia when they play internationally. In the first leg match against Esperance, at least two of the goals Esperance scored were due to schoolboy errors and slack marking. The first Esperance goal occurred when a defender headed a cross right into the path of an oncoming Esperance striker when the better option would have been to head the ball out for a corner. The next Esperance goal was due to slack marking. Against KCCA, slack marking was once again the culprit.
It appears George Nsimbe the KCCA coach was not kidding when he said he knew the weaknesses of Gor Mahia.
Williamson has his work cut out. The Gor Mahia defence will have to significantly pull up their socks before they play APR. In past years when Gor Mahia won the CECAFA , they had an experienced and solid backline.
Williamson also blamed Gor Mahia's inability to press upfront. "I was surprised by how well we did in the first 45 minutes but that's what is expected from the team. Second half we allowed our opponents to have a big say on the pitch and it's all about concentration and failing to pressed hard upfront that made KCCA to win", he added. It appears Williamson wanted to play a pressing game which is why he deployed what looked like a 4-3-3. But of three forwards, the only capable of pressing is Timothy Otieno.
Some observers suggested that Gor Mahia players appeared tired. So lack of match fitness could be another factor.