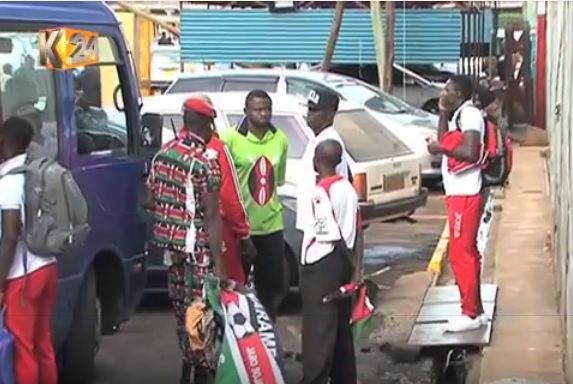 On Friday, Harambee stars registered an impressive 1-0 win over Cape Verde. It was impressive because Cape Verde are ranked almost 90 places above Kenya in the FIFA rankings and Harambee stars preparations were mediocre even by our own low standards. However a combination of FKF thievery and Ministry of Sports incompetence conspired to throw away the 1-0 advantage. Firstly the players had gone on strike citing non-payment of allowances. Secondly, the government had offered to book a chartered flight to take the team to Praia Cape Verde. However the players were stranded at Wilson Airport for 10 hours. They eventually left only to arrive mere hours before the match. A fatigued Harambee Stars offered only meek resistance. By the first five minutes, it was obvious that Harambee Stars were not going to have any say in this game.
This is the second time this year that shambolic travel plans have doomed the national team. Similar problems beset the U23 team against Botswana resulting in an 0-3 loss.
Sam Nyamweya was picked up at his Karen residentce by the police for questioning. Reports suggested that Ksh 18 million was availed to him by the Ministry but Nyamweya never saw it fit to use it to facilitate travel.
Nairobi CID boss Ireri Kamwende told goal.com that they had questioned Nyamweya on why the team had delayed to leave Nairobi yet the government had released money to facilitate their departure.
"We wanted to find out who was at fault on that matter. We will summon people from the Sports Ministry to also explain their part in this issue."
But Nyamweya defended himself saying the money was released too late.
He further blamed the Sports Ministry for the delay in departure pointing out that they took time to release money to enable the federation facilitate their travel. "We only received the money on Monday morning and that is why we were able to pay the players.
"I am dissapointed by the ministry because we have been in communication with them regarding this trip but they never made any plans to ensure the team traveled on time.".
Gor Mahia players
Among the Gor Mahia players who traveled to Praia are Boniface Oluoch, Collins Okoth, Michael Olunga who played and Ali Abondo who was on the bench. Given the travails they have suffered, coach Frank Nuttall will be wise to rest them on Friday when Gor Mahia take on Administration Police in the quarter final of the GoTV Shield.
Match Report courtesy of futaa.com
Harambee Stars dreams of building on to their 1-0 first leg victory against Cape Verde and advance to the 2018 World Cup group stages were dealt a blow in Tuesday night return leg as Heldon Ramos' double saw Islanders dispatching Kenya 2-0 to advance by a 2-1 aggregate.
The Blue Sharks made their intentions in the home clash known kicking the tie off to a pacy display from flanks with Odair Fortes smashing an effort across the bar in the first minute of play.
Host hit the ground running
As if keen to capitalize on Stars shambolic preparations for the clash, their dominance intensified with Boniface Oluoch called to action nine minutes later. The keeper was however brilliant pulling out a full stretch save to deny Djaniny from a one on one from inside the box.
Omar Mbongi was to find early proceedings tough after his brilliant debut at home, conceding a 25th minute free kick that the host put into the net. The joy was however short-lived as Ghanaian lines man disallowed the goal with three of their players having encroached from an offside position.
Star concedes from set piece
Stars sole display in the attacking territory came after the hour mark, Johanna Omollo broke free from the left wing before galloping into the enemies box only to over hit his pass past an advancing Stars payers joining the foray.
Stars budge late on
Last ten minutes of initial half had Cape Verde fancying chances from serried of awarded free kicks outside the box to no avail.
Star would however budge late in the half under the myriads of attack. Heldon Ramos's 42nd minute free kick that took a deflection from the wall before bouncing off keeper Oluoch and past bodies of Stars defenders manning the goal mouth.
Cape verde's second
Skipper Marco Soares plundering powering run from the right flank and cut back to Heldon, saw Cape Verde doubling their lead early in the second half.
Bobby responded to the goal with set of offensive changes, Jacob Keli and Jesse Were entering the fray place of Kevin Kimani and Cliffton Miheso.
Bwamy in for debut
It was Christian Bwamy's introduction mid into the second half for his debut that seemed to remotely ignite Stars offensive spark. The Norwegian based attacker seeing his strike from edge of the 18 yard box veering just narrowly wide before forcing custodian in to a decent save five minutes later.
Looking to consolidate their advantage Rui Aguas opted to for a defensive change late in the game a bringing on Rocha for Fortes as the hosts resorted to maintaining possession to run the clock down as they successfully held out to turn the table on visiting Stars.