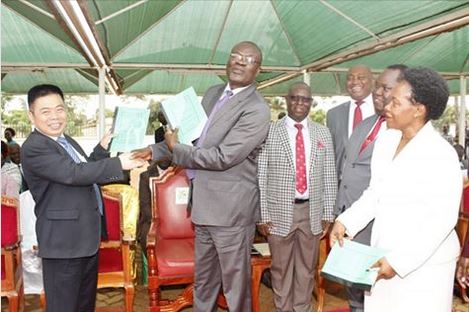 Message from Cornel Rasanga, the governor of Siaya County
*20,000-SEATER CAPACITY SIAYA COUNTY STADIUM SIGNING CONTRACT*
*30th October 2018*
I today presided over the contract signing of the construction of a 20,000-seater capacity ultra-modern stadium at the Siaya County Headquarters.
The construction will seek to increase access for all Siaya citizens to modern sporting facilities required for quality sports talent development and exposure. The stadium will also provide international sports arena for major national and international events which will attract revenue and create direct and indirect employment opportunities for Siaya County residents. The stadium shall also lend itself to socio-cultural events, gatherings and conferences.
The contract has been awarded to JIANGSU PROVINCIAL CONSTRUCTION GROUP COMPANY LTD. The construction works will include the main block, external works, sports pitch, amphitheatre, toilets and sales points, electrical installations, mechanical installations and floodlights.
The construction work is projected to take a total of 44 weeks or 10 months from the day of the ground-breaking occasion which will be in about two weeks' time. Addressing the contractor and members of the public at the contract signing ceremony at the County Headquarters earlier today, I directed that all non-technical jobs be done by the local community members at fair rates.I further directed his officers to closely monitor the construction process and ensure compliance with this directive.
"I encourage members of the public to fully participate in the construction process and frequently report to me the progress of the construction works because these are public funds that must be properly utilised with the vigilance of the members of the public", I noted .
My Deputy Governor His Excellency Dr. James Okumbe, encouraged the local business owners including hardware owners, suppliers, sub-contractors, the hotelier industry and those in the business of small-time food services to take advantage of the business opportunities that this construction brings with it.
Present at the contract signing ceremony were all members of the Siaya County Executive Committee led by the County Secretary Mr. Anyona Dave, representative of the County Assembly Hon. Edwin Odhiambo of South Sakwa Ward, County Government Chief Officers, Directors staff and members of the public all who lauded the initiative and committed to support the Governor in his legacy initiatives in the coming years.