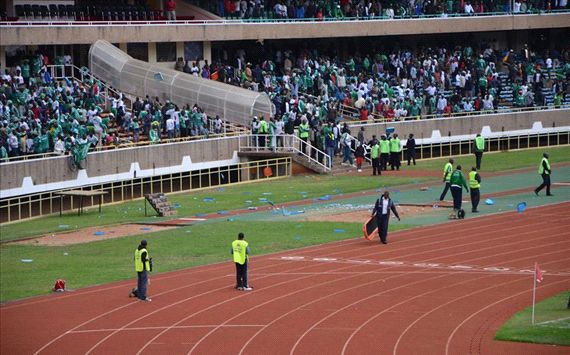 Courtesy of goal.com
According to SSMB Public Relations Officer Rakhi Asman, the damage was very extensive and is more than what was witnessed on two previous occasions
By Otieno Otieno
Gor Mahia will be billed for the destruction caused by their fans during Sunday's Kenyan Premier League match against City Stars.
Angry fans destroyed seats at Kasarani protesting at the team's failure to overcome City Stars after the match ended in a barren draw.
According to the Sports Stadia Management Board (SSMB) Public Relations Officer Rakhi Asman, the damage was very extensive and is more than what was witnessed on two previous occasions.
"In our estimation, more than 300 seats were destroyed and we will certainly bill the club for the damages. After that we have to sit down and consider any other appropriate action," Asman told Goal.
Gor may be banned from the facility if past action is anything to go by. Asman said the SSMB has embarked on carrying out repairs ahead of the regional Military games which start on Tuesday.
"We will repair the damages and then ask Gor to pay us. We have to do this due to the Military Games which start on Tuesday at the venue," added the official.
Irate K'Ogalo fans caused destruction of property at the stadium, plucking off plastic chairs, breaking off others as they directed their anger at the technical bench led by Scottish Bobby Williamson.
Frustrations
Gor Mahia fans are frustrated at a number of issues. First and foremost is the departure of Rama Salim and Dan Sserunkuma at a critical juncture in the league. Fans are accusing secreratary George Bwana of putting money first.
Secondly the rash of missed chances and some poor performances has caused fans to be unhappy. Fans also felt that the coach did not make appropriate substitutions when players underperformed
Many fans having dealt with the heart-break last year are unable and unwilling to put up with another near miss
Press Conference
According to michezoafrika.com, Gor Mahia were due to hold a press conference at 12:30 pm on Monday where club secretary general George Bwana would explain the current situation.
Hand over Goons to Police
Also according to michezoafrika.com, club secretary general George Bwana will be handing over photos of the alleged section of club fans who roughed him up and stole valuables from him on Sunday evening. Bwana had to sprint for his dear life as goons threatened to rough him up when things turned ugly at Kasarani on Sunday.
Bwana said "Those were indeed goons with a hidden agenda, "I was accosted by a section of unruly goons who demanded I answer why the club has sold some players. Before I could explain myself they started to rough me up. In the process they stole and damaged my car." He said.
Club Chairman Ambrose Rachier on his part said the club does not support hooliganism at any level. The chairman who left earlier during the Sunday match said he will have to wait for full report to comment on the matter, "We don't support any form of hooliganism. I have no report on what happened. Trying to beat a club official is a serious offense. We shall get to the root of the matter." He said