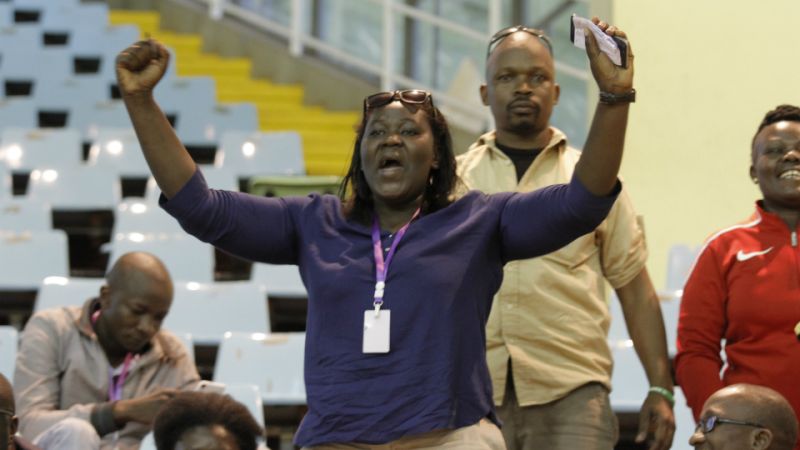 Earlier on Sunday, Gor Mahia organizing secretary Judith Nyangi took to suggest that there were other people who were colluding to defraud the club of Ksh 10,000 via sale of fake tickets. "Nimeshika Mwizi" said Judith Nyangi on social media. Fans concluded that Sally Bolo was the culprit.
On Monday, Sally Bolo posted a response of her own:
Good morning Fans,
I would like to take this opportunity to let fans and stakeholders know what exactly transpired on Saturday during our match against Vihiga United FC.
I took the match tickets to Kisumu and handed them over to our agents (Timam) for verification and recording purposes together with the Kisumu County representatives. Both Timam and county reps stamped the tickets. Actually county had sent two boys to stamp on their behalf and after they were done, they came and requested me to give them two complimentary tickets since they were going to eat out side the stadium and getting back would be difficult. I gladly gave two of them one ticket each with my signature. Complimentary tickets are a requirement in footballing world (its a rule)
At about 2 pm, Judith Nyangi, club's OS came where I was and said she caught someone selling the "fake" ticket and I asked her to check if he had a VIP ticket signed at the back. This was confirmed and I admitted giving him one ticket to regain entry into the stadium because he worked for us in the morning. I later asked OS to ask the boy where he found the terraces ticket from and the boy admitted in our presence that he got tempted and stole the tickets when they were stamping the tickets.
As we continued to interrogate the boy, some men came and asked us (OS and I) to take things slow since the boy is manager's son. Where I come from, once you have been told "ma en wuod ng'ane ka ng'ane" then you take things easy and solve amicably. I told OS to give us the tickets numbers so we could use them during the reconciliation to determine what booklet was stolen and the County to bear the cost since they were the ones who brought the two boys but instead, she walked away and started saying that she found jakuo. As usual I walked away because I couldn't stand how she reacted.
During the reconciliation time, we checked on the wall where she posted the tickets to enable us identify the stolen booklet, this was also verified. After investigating with both Timam, county reps and I, it was found that county was liable since the boys worked on their behalf and we deducted Kshs. 10,000/- from their percentage. This matter was therefore resolved amicably and the club was able to recover the money.
In conclusion, I want you guys to think outside the box and note as follows;
1. If am the one who brought the tickets to Kisumu, why would I take them for recording then steal it? If I was a thief as it has been brought to your attention, I would have hidden some booklets and sell without declaring it to all parties concerned.
2. I signed those VIP complementary tickets for security purposes and all parties involved knew about my signature. Why would I give out a document signed by myself to someone to sell knowing that s/he might be caught? Which thief would do that?
3. I met these boys for the first time. How desperate would I be kupiga deal people I hardly knew?
Finally, guys let's be real and analyse situation before we start calling people's names? Defamation is a crime. Time will tell and for those who know me well will tell you that being strict in the line of my duty is the course of all these untrue stories.
Anyway, I will not be shaken and as I've always said, whoever has the evidence that I stole should come with facts and evidence to prove otherwise.
Thank you!
Sally Bolo
Treasurer, Gor Mahia FC