Courtesy of EA Standard
it was bold and timely for Gor Mahia Secretary George Bwana to address the nation last weekend.
Few officials talk to the public in times of distress, the type that K'Ogallo has sustained since the season started. Yet the public always want to get to the bottom of issues. That way, they can make sober and informed judgement and, where possible, offer solutions.
Bwana was in our studios at The Standard Group Centre last Saturday. As expected of a competent secretary, and ostensibly a spokesman, he gave assurances that the club is in good hands and the future looks pretty good.
Whether those assurances are enough to cool simmering tension and angst among the club's following is only a matter of conjecture. By and large, I think Bwana only glossed over the real issues affecting the club.
The problems at Gor are more complex than what the secretary chose to tell the public. But again, as he assured the public, I hope they will be resolved in good time so that the legion of the club's fans can rest assured that their club won't be relegated.
In times like these in any organisation, it calls for an honest approach to resolving problems rather than adopting diversionary methods, if being economical with the truth.
Publicly, the problems started with the sacking on March 5 of the entire technical bench under Anaba Awono, assistants Ken Odhiambo, Zablon Otieno, and Julius Owino; team managers Jolawi Obondo and his assistant Maurice Ouma 'Ole Tunda' after the club was eliminated from the Confederation's Cup by the CAF Confederation Club Ferraviario de Maputo.
This was followed by a string of poor performances in the Kenyan Premier League.
Club legend John Bobby Ogolla was brought on board with former Ulinzi Star player Tom Ogweno as team manager.
Before any deal was concluded, Croat Zdravko Lugarusic was hired to steer Gor from the murky waters. The performance has not improved, but with time and once he has gelled with his charges and has learned and understood the situation, he should save them from further agony.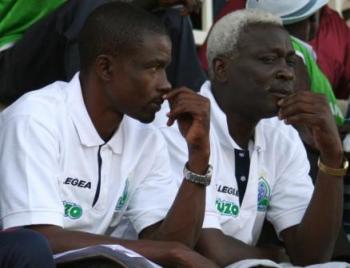 But it should be understood that the club need to get things right. Most of these things are basic. The most important is the playing unit.
The club must get players under tight grip and I don't mean by dictatorial means: By simply making them happy. By honouring their word. About a dozen players are grumbling, some loudly, over unpaid signing fees.
The club will be in more trouble when some players realise their colleagues'
financial demands have been met, while theirs are still on the pending file.
Bwana and the Gor office will have to move fast to fulfil their side of the bargain. A club's playing unit is the most important and once it is at peace, results will come pronto. Fans will be happy and violence or fan trouble will not be experienced.
It looks like Awono's approach of head hunting players from established clubs has not been as successful as identifying raw talent from the grassroot as the club was accustomed to in years gone.
Apart from being expensive, it brings players who make unrealistic demands, which drain resources from the club's kitty.
Ogweno will have to learn a few lessons from former TM Jolawi that real talent is to be found in the village rather than from established clubs or relegated sides.
For who knew George 'Blackberry' Odhiambo, Dan Makori, Fred Otieno, Nicholas Odundo, Duncan Owiti, John Kiplangat, Brian Osumba, Roy Okal, and Gradus Ochieng', and others, before they were fished from clubs in back water areas like Nyarombo FC (Kanyamwa), Migori Youth, Nyarombo FC, Gunga FC, Kisegi, Milimani FC (Homa Bay), Oyugis and such like places?
Get basic things right and avoid blame games. Officials should not look over their shoulders and start blaming colleagues or past officials for the problems facing the club.
They must face them head-on and get this great club back on its right footing. I cannot countenance a Kenyan Premier League without Gor Mahia or AFC Leopards.