In an interview with the Daily Nation, coach Bobby Williamson has indicated that he is staying with Gor Mahia for now.
"I will concentrate on my job at Gor Mahia until something comes up," he said to the Daily Nation. Pressed further he said : "I am with Gor Mahia, it is my home."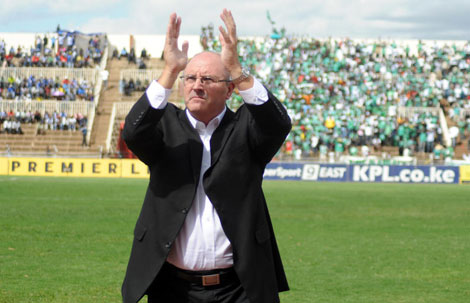 Williamson has not received a firm offer from FKF and there has been confusion over whether Amrouche's 5 year contract can be terminated. And this is why giving a coach a lengthy contract like 5 years does not make sense.
Williamson further indicated that he is not interested in handling two jobs.
"At the moment I am still the team's (Gor Mahia) coach, but I am certainly not comfortable with handling the two jobs. Those two are very demanding jobs and I do not think it is tenable for me to handle both. I am yet to make up my mind but I feel it would be very unethical to take both jobs" he said on the KPL website.
Williamson may be finding out first hand the incompetence that is in FKF.
Gor Mahia official hits back at Mururi
Gor Mahia official Ronald Ngala castigated Chemelil coach Mike Mururi for his claims that referees favoured Gor Mahia. Ngala said that Mururi's comments show his ignorance.
"Mururi's comments show only ignorance. He does not understand that performance is dictated by many things. Our own coach Bobby Williamson has been summoned by KPL disciplinary body over comments he made about refereeing. How can he say that we are being favored?" he said to goal.com
"Local referees do not help when they show open bias. It catches up with teams when they go out for international assignments." continued Mururi.
In fact Mururi is showing bias and ignorance. International referees are far more corrupt and susceptible to bribes. When Gor Mahia played US Bitam earlier this year, they referee almost single handedly eliminated them.
Mururi's views first reported on goal.com and reflected on all the Dailies suggested that Gor Mahia's inability to win in Rwanda was because referees favoured them in Kenya.
"Gor Mahia are suffering from a self-inflicted problem. They are used to local referees favouring them to win matches in Kenyan Premier League. When they get neutral officials it becomes difficult for them to perform and this is what happened in Rwanda,