Story by Muroro Pacho
Milimani-Strathmore
Anthony Otieno, the Kisumu lad recently recruited by Kogalo has thoroughly impressed those who have seen him play. It is too early to prognosticate how good he will end up being. But its a worthwhile endeavour to take a brief look at some of the other prodcucts of the city by the lake who have donned the green jersey.
Kisumu City has produced a disproportionate number of all time Kogalo legends. In fact the list of players who emerged from Kisumu and joined Kogalo reads like a who is who of the all time greatest players ever to play for Kogalo.
Allan Thigo was born in Kampala Uganda but learned his football in Kisumu where he spent his formative years. Thigo joined Kisumu Hot Stars at age 18. From there he was recruited by Kogalo in 1971. Indeed Kisumu Hot stars which at the time was one of the best teams in Kenya was the supplier of talent to Gor Mahia. Within a year of joing Gor Mahia, Thigo was called up to the national team. He featured prominently in the national team that played in the 1972 Africa nations cup. He is considered by many as the greatest play maker ever to play football in Kenya. In his heyday he commanded the midfield with such authority that he was nicknamed "Ogango wuon pap" by Kogalo fans, which literally means "owner of the field".  He was player/coach and played a pivotal role in helping Kogalo reach the finals of the Africa cup in 1979.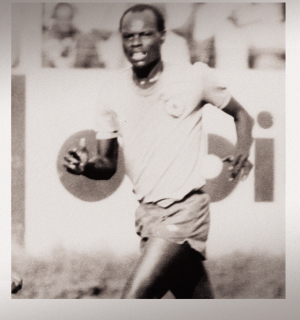 Thigo in his heyday
When Gor Mahia FC was formed in 1968 with the merger of the original Luo Union and Luo stars football clubs, a number of players joined from Kisumu Hotstars. Most notable amongst these was Fred Siranga, James Sianga and the legendary William Ouma "Chege". Prior to the emergence of Dennis Oliech, "Chege" was considered as the greatest striker Kenya has ever produced. His goal-scoring instincts were such that he topped the scoring charts by a huge margin every year. He was equally adept at scoring with both feet but it was his left foot that sent shivers down the spines of opposing goal-keepers.
James Sianga is still considered as one of the best goalkeepers ever to play in Kenya. Other than Mahmoud Abbas, Sianga is arguably the best Kenyan goalkeeper ever. Both Chege and Sianga were amongst the 9 players who left Kogalo at the end of 1974 to join the newly re-formed Luo Union FC.
John Bobby Ogolla is without a doubt the best defensive stopper that Kenya has ever produced. He was as strong as an Ox. Built like a tank and had a shot that was so powerful that he often ripped the net. He was also supremely accurate with his free-kicks and often scored crucial goals for Gor Mahia and the national team via free-kicks. In those days, conceding a free-kick to Gor Mahia anywhere within shooting range was like taking a poison pill for opposing teams. He was nicknamed "The six Million dollar man" after a television super hero who had super human strength. Bobby is to this day still fondly remembered by Ugandan and Tanzanian football fans at the time as he helped Kenya to utter and complete dominance of the CECAFA cup at both national and club level. His performance during the 1982 CECAFA cup finals is what earned him his nickname. That day Bobby man-marked the legendary Ugandan dangerman Issa Sekatawa out of the game. Midway through the game he was elbowed by Sekatawa and had to leave the field to receive 7 stitches across his forehead. he played the rest of the game with a bloody headband and still earned man of the match honours.
When Gor Mahia won the league in 1983, the midfield was powered in part by two Kisumu products. Charles Otieno was the midfield linkman or "number six" in those days. he also joined Kogalo from Kisumu Hot stars after a legendary career at secondary school level. He was dubbed as "The Engine" of the team by then coach Len Julians. According to Julians, when Charlie played well, the team played well. And when he played badly, the team played badly. He was extremely active on the field, carrying the ball forward with purpose and spraying defence splitting passes that wreaked havoc amongst opposing teams.
John Okello "Zangi" was the outside right or "number 8" in those days. He was a rebellious fellow even in his youth. So rebellious was Zangi that he started his career at Kisumu Police rather than Kisumu Hotstars where most others came from. As rebellious as he was off the field, he was equally effective on the field, powering the midfield with his powerful runs and scoring several crucial goals.
In 1983, Norwich City were playing in the top English league when they toured Kenya. They will never forget the the 18 year old "Zangi" scoring two goals against them to lead Kogalo to a 4-2 win over the English outfit.  When the Kenya national team toured Brazil in 1988 while preparing for the Africa nations cup., Zangi was voted as the most outstanding Kenya player by a panel of Brazilian journalists and coaches. Zangi's rebellious streak probably runs in the family as John Ochuka who led the 1982 coup against Moi was his first cousin.
Sammy Onyango "Jogoo" another Kisumu product is one of the most complete players ever to play in Kenya. A left winger, he was comfortable playing on either wing. He became famous for his ability to deliver inch perfect Beckham like crosses with either foot. And of course he possesed a deadly and accurate shot. Legendary AFC Leopards defender Josephat Murila recently indicated that Sammy was the player they feared the most, due to his ability to score from seemingly impossible angles.
The one Lakeside gem who is most familiar to today's fans must be George Odhiambo "Blackberry". A product of the Kisumu Youth Football assocition, Blackberry schooled at Thur gem and Kamkunji secondary schools and played for Kogalo while still in school. In his brief career at Gor Mahia, his mazy dribbling, quick feet and deadly finishing left many defenders confused, mesmerized and bamboozled. Just ask Tusker or Ulinzi defenders. he scored memorable goals against both these teams. In both cases he weaved past a foreast of defenders in classic blackberry style, leaving them for dead before burying the ball in the back of the net. He is arguably the most renown player to play for Kogalo in this millenium.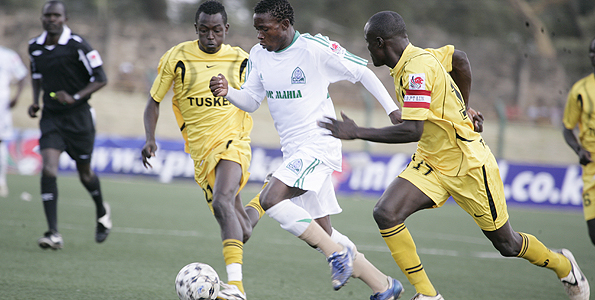 Blackberry weaves his magic
Indeed the Lakeside town has been a rich mine producing diamonds of the highest quality. Some of these diamonds have gone on to polish their skills and become excellent players. Fans will be hoping that Anthony Otieno will turn out to be one of those well polished gems. How good he turns out depends on his willingness to work hard and how well the club handles him.