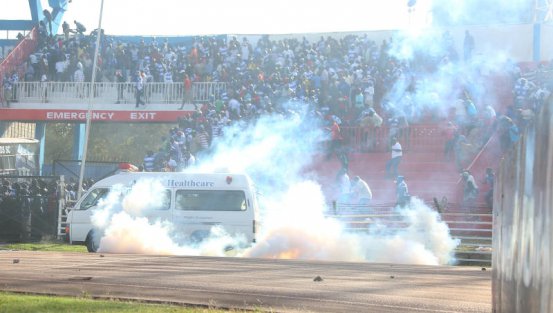 Both Gor Mahia and AFC Leopards have been fined Ksh 1 million by the Independent Disciplinary and Complaints Committee (IDCC). IDCC is chaired by Professor Migai Akech. Other members are Njeri Onyango, William Booker Odeny, Elijah Gitonga, Peninah Wahome and David Otieno.
The match which was highly anticipated by Gor Mahia fans, was ruined by AFC fans when they realized that they could not win it. There are reports that the fracas was planned by certain politicians.
IDCC ruled that Leopards was guilty of causing the abandonment of the match.
"It's clear its (AFC Leopards) fans made it impossible for the penalty to be taken. The referee had already made a call for the penalty to be taken and could not have continued with the match unless the penalty was taken."
However, in their ruling, the IDCC found Gor Mahia liable as hosts. In their ruling they observed that Gor Mahia did not provide sufficient security nor did they print enough tickets.
"Having considered all relevant factors and in the exercise of our powers under Rule 7.8 of the Rules, we apportion liability between the 1st Respondent Gor Mahia) and 2nd Respondent (AFC Leopards) at 60%:40% with the fine assessed at KSh1,000,000.00 hoping that this will get the Respondents to find a way of controlling their fans and generally managing security in future matches. This means that the 1st Respondent, Gor Mahia Football Club will pay KSh600,000.00 while the 2ND Respondent, AFC Leopards SC will pay KSh400,000.00. This fine should be paid within 60 (Sixty) Days from the date hereof," .
"From an assessment of the evidence and the submissions, a lot of the unfortunate events that happened on that day would have been avoided had proper security arrangements been put in place and the things agreed to be done, done. Gor Mahia failed to print enough tickets and failed to adhere to the safety and security guidelines that had been agreed upon," IDCC said.
Indeed Gor Mahia did not show sufficient organization for a match of this magnitude especially with regard to making tickets available.
IDCC also recommended that the Kenyan Premier League have a bigger oversight role on security matters in the football matches, electronic ticketing be introduced in the league and matches be called off once a serious breach of security has occurred.