Gor Mahia in the 2019 CECAFA Cup
| Date | Opponent | Venue | Score | Scorers | Assists |
| --- | --- | --- | --- | --- | --- |
| 17-Jul-19 | Green Eagles (Zam) | Kigali | 1-2 | Kikpkirui | |
| 14-Jul-2019 | KMKM (Zanz) | Kigali | 1-0 | Ombija | Sempala |
| 10-July-19 | AS Ports (Dji) | Rubavu | 2-0 | Oalo, B.Omondi | |
| 8-Jul-19 | AS Maniema | Rubavu | 2-1 | B.Omondi, Geoff Ochieng | |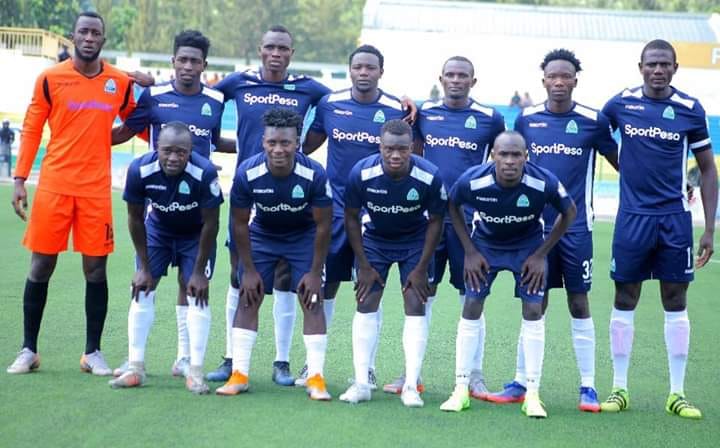 Prior to the match against KMKM
Gor Mahia in the 2018 CECAFA cup
Date
Opponent
Venue
Score
Scorers
Assists

July-13

JKU(Zanzibar)
(3rd Place Playoff)
Dar
2-0

Samuel Onyango, Mustafa

July-11
Azam
(Semi-Final)
Dar
0-2
July-9
Vipers (Uganda)
Dar
2-1
Tuyisenge, Mustafa
Mustafa
July-5
AS Ports (Djibouti)
Group Stage
Dar
2-0
Philemon Otieno, Momanyi
Wafula
July-3

LLB Academic (Burundi) Group Stage
Dar
2-2
Philemon Otieno, Tuyisenge (Pen)
July-1
Rayon Sports (Rwanda)
Group Stage
Dar
2-2
Tuyisenge, Mieno
Guikan (2)

Front Row: Philemon, Walusimbi, Wafula, Mustafa, Blackberry
Back Row: Momanyi, Mieno, Wendo, Tuyisenge, Shakava, Oluoch

In 2018, Gor Mahia were playing a marathon schedule, sometimes as many as 10 games each month. The schedule took its toll on the players.

Gor Mahia in the 2015 CECAFA cup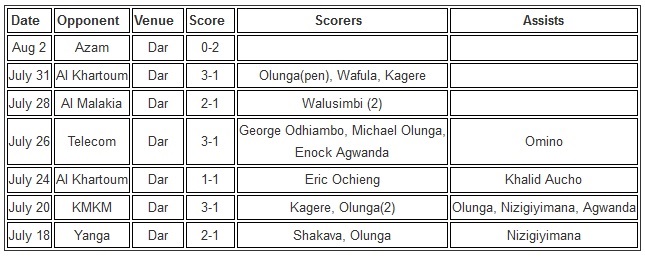 Front Row: Ali Abondo, Karim Nizigyimana, Geoffrey Walusimbi, Ronald Omino, Musa Mohamed Back Row: Abouba Sibomana, Michael Olunga, Khalid Aucho, Harun Shakava, Boniface Oluoch, Meddie Kagere
Gor Mahia at the 2014 CECAFA cup

Gor Mahia prior to the match against APR
Backrow: Geoffrey Kizito, Eric Ochieng, Musa Mohamed, Collins Okoth, Haron Shakava, Odhiambo Blackberry
Front Row: Jerim Onyango, Daniel Onyango, Godfrey Walusimbi, Owino Calabar, Tim Otieno
Gor Mahia played in the 2014 CECAFA cup against the backdrop of having recently lost their sponsorship with Tuzo and having lost over 6 key players to mid season transfers.
Against KCCA, Gor Mahia started brightly but ran out of steam in the second half. Gor Mahia played poorly against Atletico. Against APR, Gor Mahia came back from 2 goals down to level the scores. At one point they scored what looked like a legitimate 3rd goal, only for the Tanzanian referee to inexplicably deny it.
Gor Mahia in the 1996 CECAFA cup

Gor Mahia were then coached by Croatian Vojo Gardasevic and boasted players like goalkeeper Joseph Asembo who played behind a solid backline with Zedekiah Otieno "Zico", Paul Ochieng, Joseph Owino and a midfield that had maestro Dan Ogada, pass master Tom Ochieng, Tom Okaya, while the attack had Dan Shikanda and Steve Odiaga.
It was a solid performance in which Gor Mahia topped their group before going down to hosts Simba sports club in the semis.
Gor Mahia in the 1994 CECAFA club cup

At the time Gor Mahia were coached by former captain Austin Oduor. Their preparations for the tournament included a training camp in Kericho in which they played local teams. Among the players in the team included legend Abbas Khamis Magongo who was making a return to the club after a stint in Oman. However Magongo far from his best. Keeper Charles Omondi Korea, Mike Otieno, Dan Ogada, Gideon Ochieng, Tom Ochieng and Steve Odiaga, Gor Mahia arrived late but still put on a solid performance against the hosts in the opening match. But it fell apart from there. Gor Mahia lost their next two games to Simba of Tanzania and Express of Uganda.
1992 CECAFA club cup
Gor Mahia had qualified for the 1992 CECAFA club cup by virtue of winning the league in 1991. But the KFF somehow conspired to send Rivatex FC instead. Gor Mahia officials never protested so there must have been a backdoor arrangment between KFF officials, Rivatex Officials and Gor Mahia officials.
1991 CECAFA club cup
A Gor Mahia side was coached by player-coach Austin Oduor and manned by among others Strikers Jared Achieng, Tom Odhiambo, midfielders Fred Awich, Allan Odhiambo, Felix Otieno and defenders Zedekiah Otieno, Paul Ochieng, and Tobias Ocholla. Gor Mahia topped a tough group that included Nakivubo Villa of Uganda, Al Mourada of Sudan and Limbe leaf Wanderers of Tanzania. They however lost to hosts Simba Sports club.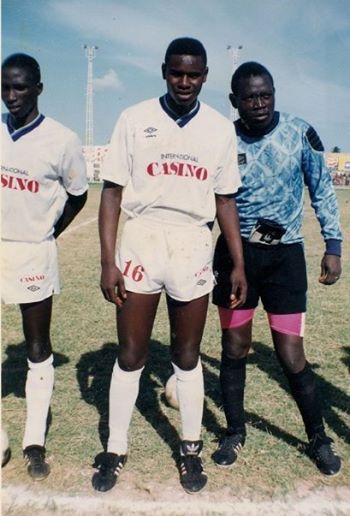 Fred Awich, Tom Odhiambo and Tairus Omondi at the CECAFA club cup held in Tanzania in 1991
1988 CECAFA club cup
Gor Mahia qualified for the 1988 CECAFA club cup by virtue of winning the league in 1987. However citing fatigue from their 1987 Africa club cup campaign, Gor Mahia pulled out.
1986 CECAFA cup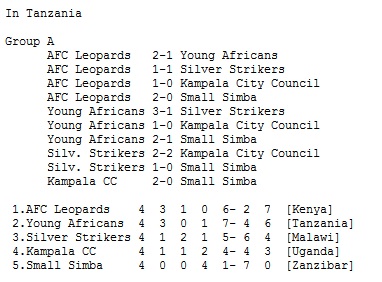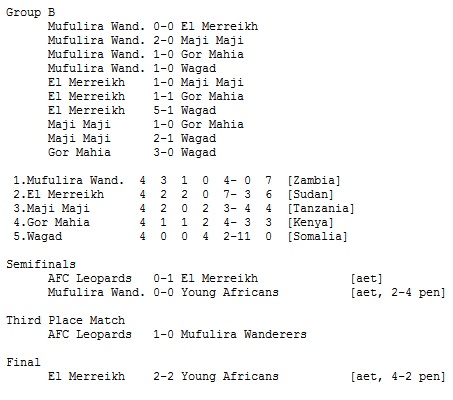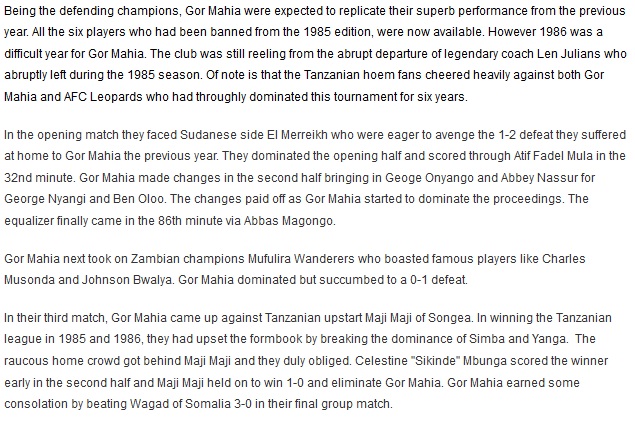 Gor Mahia in the 1985 CECAFA cup
Gor Mahia won the 1985 CECAFA club cup. It is one of the most memorable moments in the club's history because six of their top players along with head coach Len Julians were suspended. Nobody gave the weakened Gor Mahia squad a chance. But they emerged triumphant beating arch rivals AFC Leopards 2-0 in the finals.
Read the detailed report of Gor Mahia's 1985 CECAFA cup campaign
Gor Mahia in the 1984 CECAFA cup
The 1984 edition of the CECAFA club cup was held in Nairobi and Mombasa. Gor Mahia was in group A whose matches were played at the newly constructed Nyayo national stadium. Gor Mahia qualified by virtue of being Kenya league champions.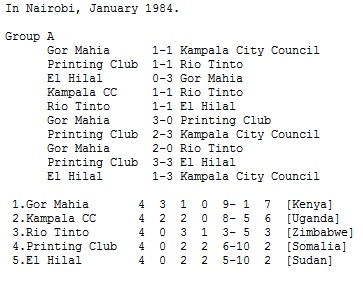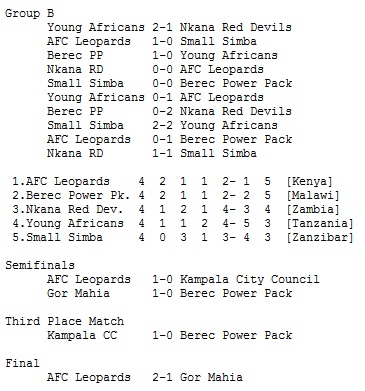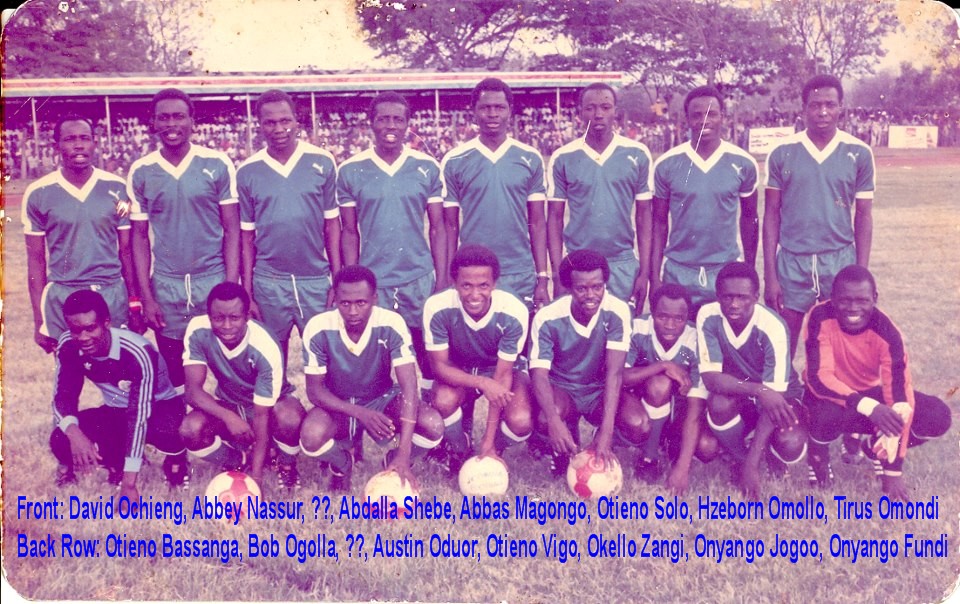 Gor Mahia squad in 1984

Gor Mahia at the 1983 CECAFA cup
The 1983 CECAFA cup was played in Zanzibar. Gor Mahia qualified because kenya was allowed to send two teams since AFC Leopards were the defending champions.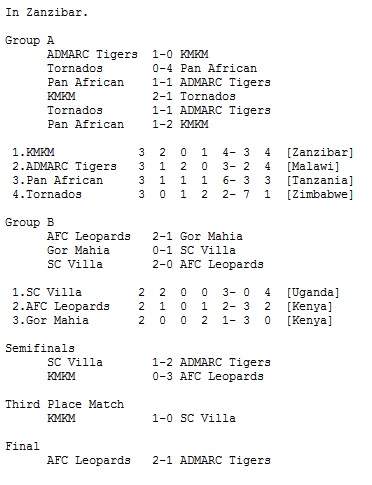 Gor Mahia at the 1982 CECAFA club cup
Gor Mahia fielded a star studded squad. With players like Nahashon Oluoch, Sammy Owino, Tim Ayieko, Dan Odhiambo and Bob Ogolla, much was expected from Gor Mahia. And to boot, they were scheduled to play their group games in Kisumu, their spiritual home ground.
Group A [Nairobi]
13- 2 AFC Leopards   2-0 Rio Tinto
14- 2 Ujamaa         1-0 Information Club 
16- 2 Rio Tinto      4-1 Ujamaa      
17- 2 AFC Leopards   2-0 Information Club 
19- 2 Ujamaa         0-3 AFC Leopards   
20- 2 Rio Tinto      1-1 Information Club 

 1.AFC Leopards    3  3  0  0  7- 0  6  [Kenya]
 2.Rio Tinto       3  1  1  1  5- 4  3  [Zimbabwe]
 3.Ujamaa          3  1  0  2  3- 7  2  [Zanzibar]
 4.Information C.  3  0  1  2  1- 4  1  [Somalia]

Group B [Kisumu]
13- 2 Gor Mahia      1-1 Bata Bullets
14- 2 Young Africans 2-1 Kampala City Council
16- 2 Gor Mahia      0-1 Kampala City Council
17- 2 Young Africans 1-0 Bata Bullets
19- 2 Gor Mahia      3-1 Young Africans          [?]
20- 2 Bata Bullets   2-0 Kampala City Council

 1.Young Africans  3  2  1  0  5- 2  5  [Kenya]
 2.

Gor Mahia     

          3  1  1  1  4- 4  3  [Tanzania]
 3.Bata Bullets    3  1  1  1  3- 2  3  [Malawi]
 4.Kampala CC      3  0  0  3  1- 5  0  [Uganda]

Semifinals
22- 2 AFC Leopards   1-0 Gor Mahia    
23- 2 Rio Tinto      2-1 Young Africans

Third Place Match
      Gor Mahia      unk Young Africans

Final
25- 2 AFC Leopards   1-0 Rio Tinto
        [goal scored after 25 mins]

Gor Mahia in the 1981 CECAFA club cup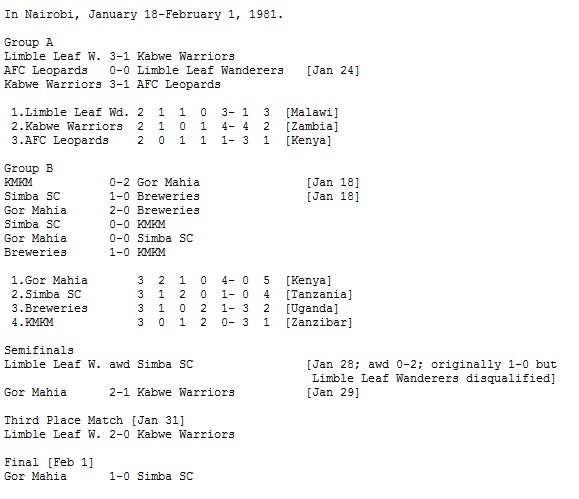 Gor Mahia were in sensational form throughout the tournament. They played opening games games at their spiritual home of Kisumu, a town that had produced a significant number of the players who were featuring for the club at the time including John Chore, Bobby Ogolla and Hamisi Shamba.
Gor Mahia beat Simba 1-0 in the final at the City stadium. Nairobi mayor Nathan Kahara was elated. He awared the club the Crest of teh City of Nairobi and thanked them for bringing fame to the city.
Gor Mahia at the 1980 CECAFA club cup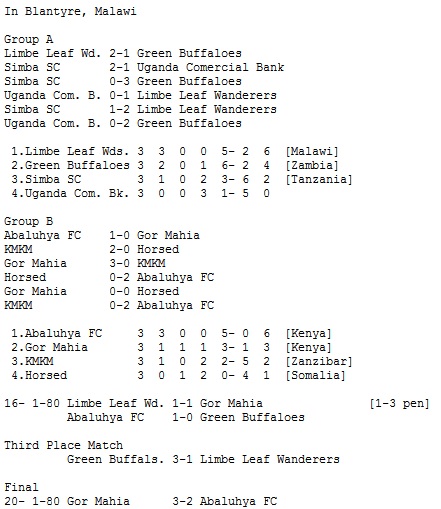 Gor Mahia in the 1977 CECAFA club cup
Having won the 1976 league unbeaten, much had been expected from Gor Mahia. With players like legend Allan Thigo, Mike Ogolla Machine, Paul Oduwo "Cobra", Jerry Imbo, John Chore, Gor Mahia looked set for a good tournanent. But they started poorly losing to bitter rivals Luo Union 4-2 in the tourney opener. Luo Union with players like Heading specialist Charles Ochieng, William Ouma "Chege" and Agonda Lukio proved too strong for everyone as they went on to win the tournament.