Gor Mahia Photos in 2011 and 2012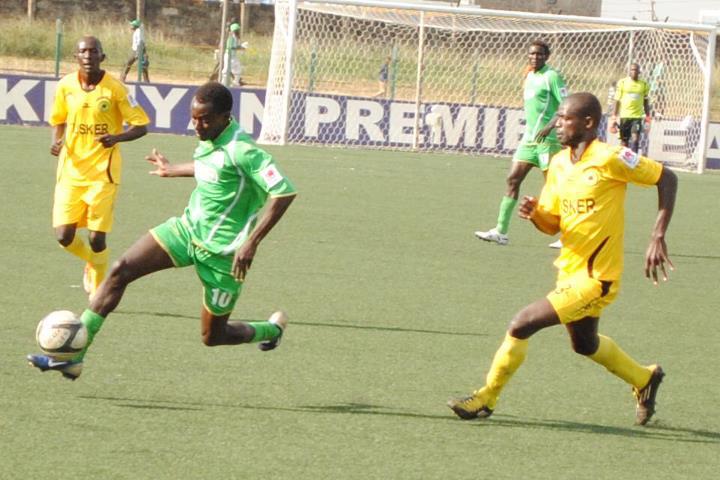 Victor Ali Abondo leaving a trail of hapless Tusker defenders in his
wake

Dan Sserunkuma shows off his trade mark acceleration. He spearheaded
Gor Mahia's revival in 2012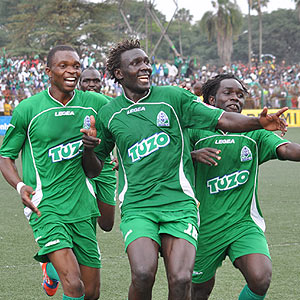 Ivan Anguyo celebrates with Edwin Lavatsa and Dan Ssserunkuma after
scoring a crucial goal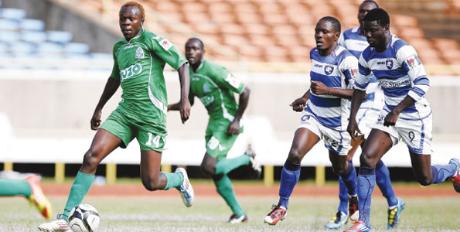 Kevin Omondi flies down the wing and leaves AFC players chasing his
dust. Omondi scored the second goal as Gor Mahia won this encounter
2-1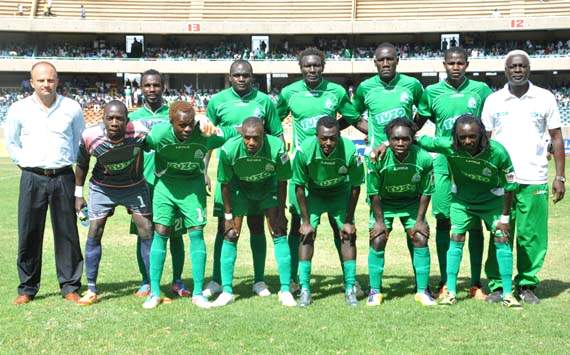 Gor Mahia in a group photo before taking on AFC whom they beat 2-1 at
Kasarani:
Front Row from left : Jerim Onyango, Kevin Omondi, Solomon Nasio, Ali
Abondo, Dan Sserunkuma, Moses Odhiambo
Back Row: Zdvarko Logarusic, Rama Salim, Chris Wekesa, Ivan Anguyo,
Donald Mosoti, Anthony Akumu, Bobby Ogolla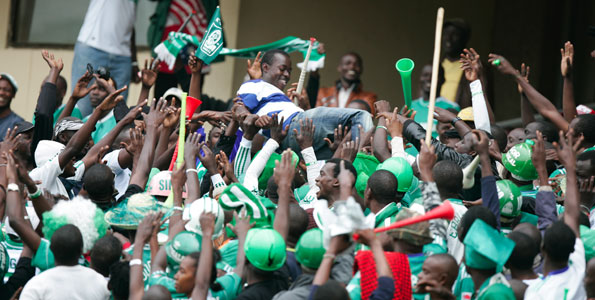 Gor Mahia fans carry an AFC Leopards supporter shoulder high. The AFC
supporter was one of the few who showed up after AFC boycotted the Top
8 match againsgt Gor Mahia.

Anthony Akumu in action against Western Stima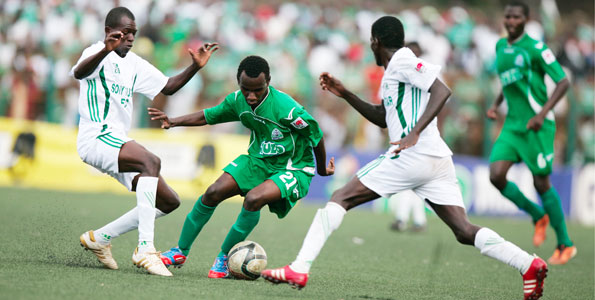 Rama Salim takes on two SoNy Sugar defenders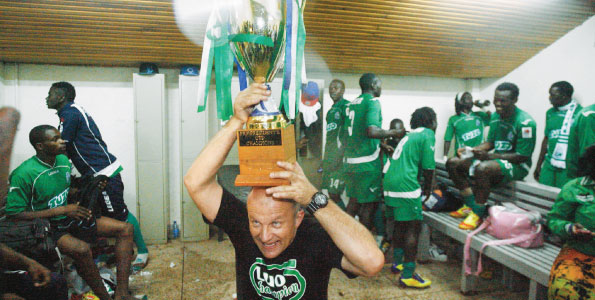 Coach Zdvarko Logarusic celebrates with the team after winning the FKF
cup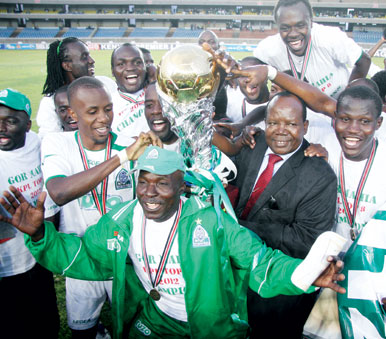 Gor Mahia rejoice after winning the KPL Top 8 cup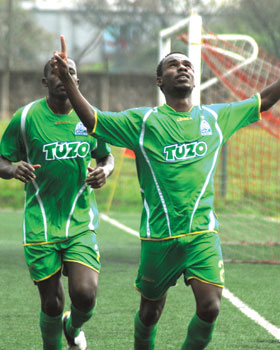 At the beginning of the 2012 season, Kogalo were going through a rough
patch. So Rama Salim could only thank God when he scored. Here he is
seen celebrating with Kevin Ochieng.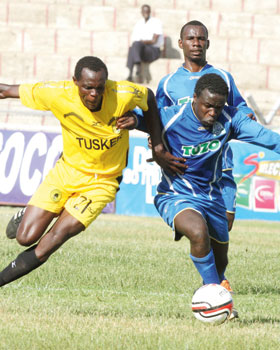 Collins Okoth was nicknamed "Gattuso" because he was tough as nails
and aggressive like a terrier.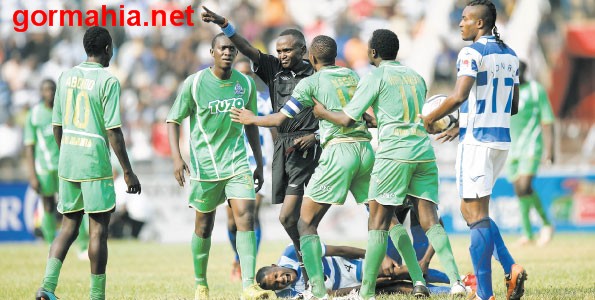 Victor Ali Abondo was sent off for fouling this AFC player resulting
in crowd trouble. The foul itself may not have been that bad but
Nahimana of AFC did an excellent job of acting and Abondo was indeed
careless with the tackle.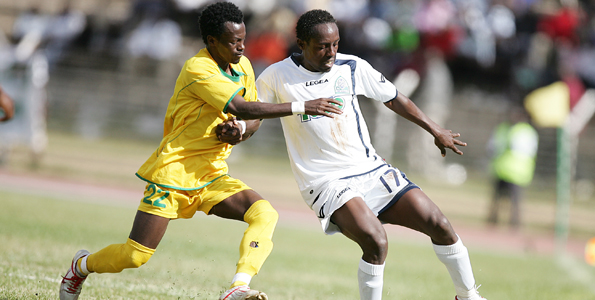 Nicknamed "Mwalimu" because he is a teacher by profession, Dan Makori
played for Kogalo until mid 2012 when he was released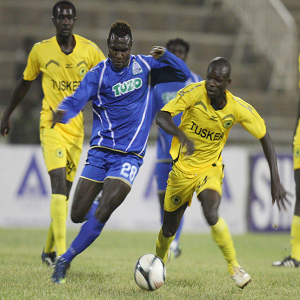 Baldwin Ngwa returned to Gor Mahia in 2012 after spending a year in
Tunisia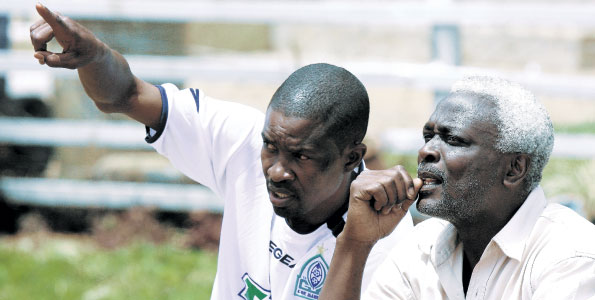 After a dismal start to the 2012 season, the entire technical bench
was disbanded and replaced by Bobby Ogolla and Tom Ogweno picture
above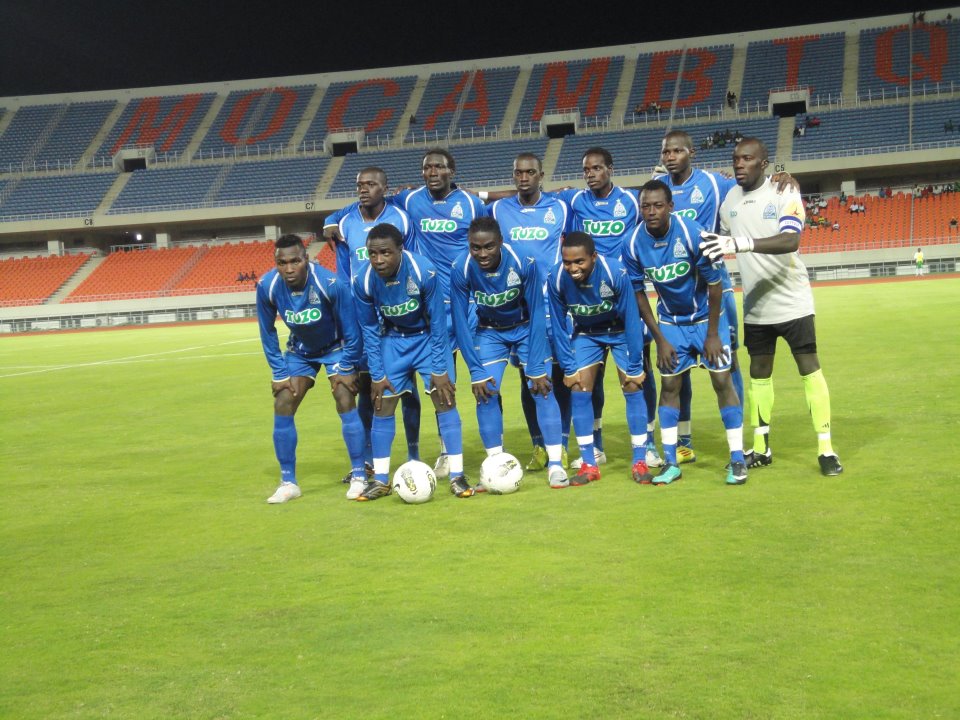 Gor Mahia in Maputo where they disastrously lost 4-0 to Ferroviario in
the 1st round of the CAF Confederations cup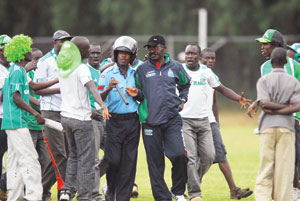 Frustrations reached a boiling point after Gor Mahia lost to Karuturi
Sports club and fans bieseged coach Anaba Awono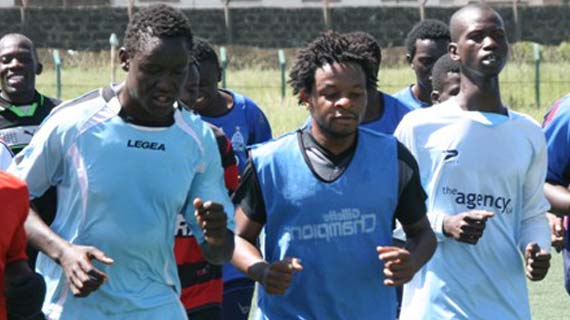 Anthony Otieno Nyangor joined Gor Mahia amid much promise after he
scored against them during the tour of Kisumu. Club officials were
agog about his prospects. But he never panned out.

At the beginning of the 2012 season, Gor Mahia unveiled what most
people thought was a star studded set of new signings: From left
George Midenyo, Yusuf Juma, Felix Nwosu aka Felixinho, Baldwin Ngwa
and Rama Salim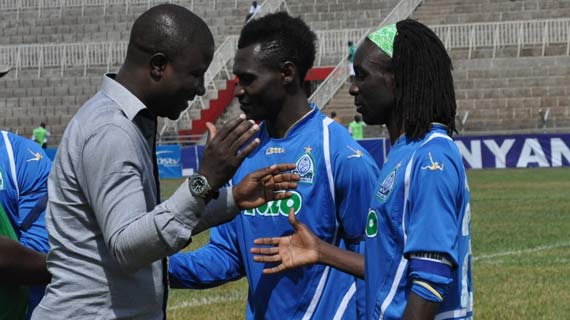 In November 2011 George Bwana was elected the club's secretary general
after a campaign conducted largely on Facebook. here he is seen with
Baldwin Ngwa and Moses Odhiambo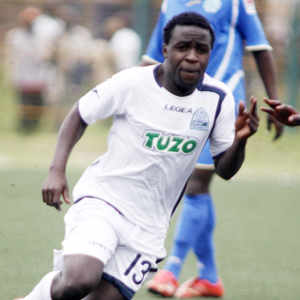 Collins Okoth "Gattuso" was laden with ability but his indiscipline
stifled his career at Gor Mahia
2011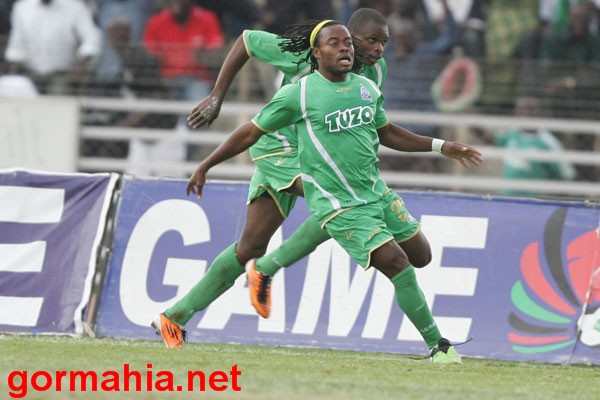 Demonde Selenga scored against his former club AFC Leopards to lead
Gor Mahia to a 3-1 win in 2011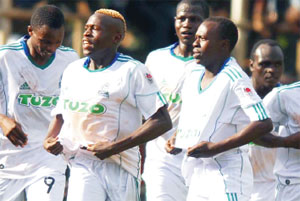 Eric Masika and Kevin Omondi showed off their Tuzo jerseys after Gor
Mahia signed a historic sponsorship deal.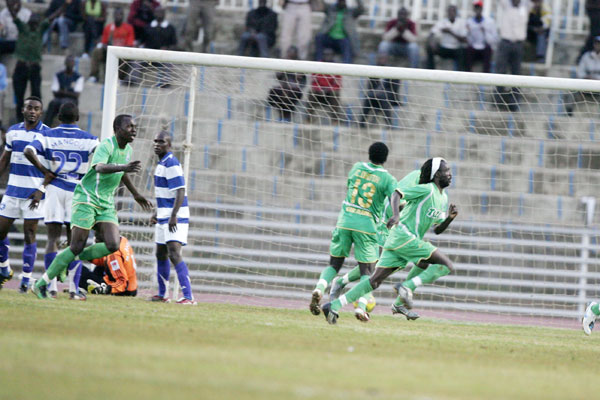 Moses Odhiambo headed home a freekick from Moses Otieno to help Gor
Mahia beat AFC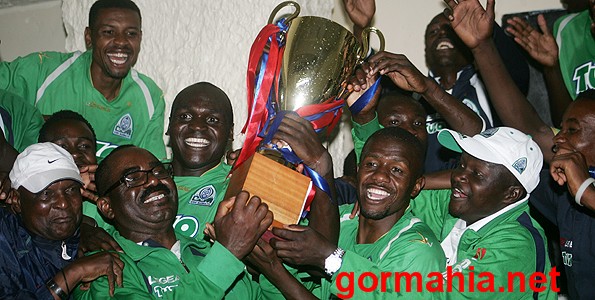 Gor Mahia celebrate winning the 2011 FKF cup. In the picture are Hajji
Mwachoki (top left), Maurice Ole Tunda (hat), Anaba Awono (glasses),
Chris Wekesa, Solomon Nasio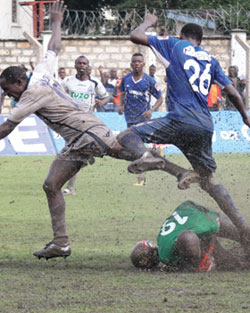 Playing in a waterlogged pitch in Mombasa, Gor Mahia were forced to a
tie. In this picture is winger Dan Makori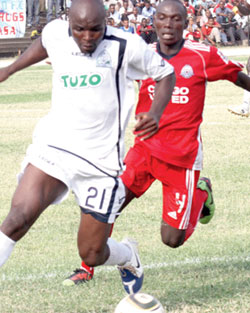 Wycliff Ochomo played for Gor Mahia briefly in 2011 having joined from
Congo Boys. Here he plays against his former club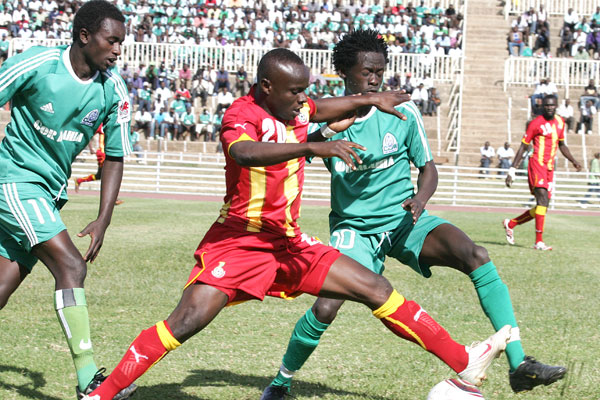 Ezekiel Odera scored as Kenya beat the Ghana national team in January
of 2011. Much was expected from hism since he was one of the leading
scorers in the league in 2010. But Odera could not find his scoring
touch at Kogalo