2022-2023: Gor Mahia defies FIFA ban to win the league
Going into the 2022-2023 Kenya Premier League, most football fans in Kenya including the most ardent fans of Gor Mahia did not expect much from Kogalo. The club had lost key players in 2022 including dependable defender Harun Shakava and Clifford Miheso who both departed to Police as well as Rwandese striker Jules Ulimwengu. As a result, Gor Mahia under coach Andreas Spier finished third in the 2021-2022 leagie standings, 8 points behind Tusker who won the league. Gor Mahia had no dependable goal-scorer with Ugandan midfielder Peter Lwasa being the club's top scorer with 8 goals. Benson Omalla from whom much was expected had not me expectations. Prior to that, Gor Mahia had finished a distant 8th in the 2020-2021 season.
Going into the 2022-2023 season, Gor Mahia under new coach Johnathan McKinstry was expected to finish well behind sides like Tusker, KCB  and Kakamega.
FIFA Ban
Due to non-payment of players and coaches from previous seasons,FIFA barred  Gor Mahia from signing new players. Among those who complained to FIFA about payment were former coach Steve Polack as well as Ghanaian Jackson Owusu and Malian goalkeeper Adama Keita.
Gor Mahia thus had to rely on youth team players like Paul Ochuoga, Bernard Ouma, John Nyawir and Alphonse Omija.
Slow start to the season
After seven matches in the season, it appeared as if Tusker was going to run away with the league for the 3rd season in a row. They had a 365 day unbeaten run . They had a 100% record in the first seven matches, gathering 21 points from 7 matches, including impressive wins over Kakamega Homeboyz, AFC leopards and KCB. Meanwhile, after seven matches, Gor Mahia had already lost twice and drawn once, losing to lowly Mathare United as well as KCB and drawing with Kariobangi Sharks. After 7 matches, Gor Mahia had 13 points, a whopping 9 points behind Tusker.
Phenomenal season for Benson Omalla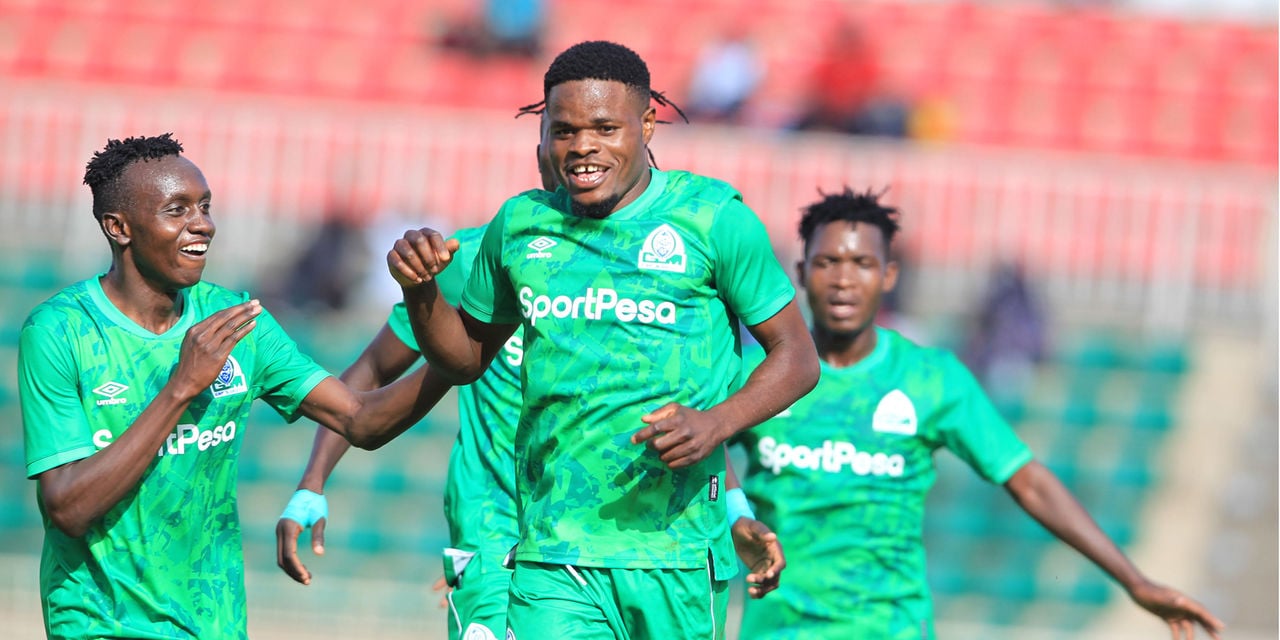 Benson Omalla had a memorable season, scoring 26 goals. In the process he tied the previous record of 26 goals set by Gor Mahia striker Maurice Ochieng in 1976. Omalla's goal tally was almost 50% of the total goals scored by the entire league season. An amazing achievement for a striker who had scored only 7 goals in the previous campaign. So reliable was Omalla that in the first half of the season, there was a concern that the team was too dependent on his scoring exploits.
The Emergence of Austin Odhiambo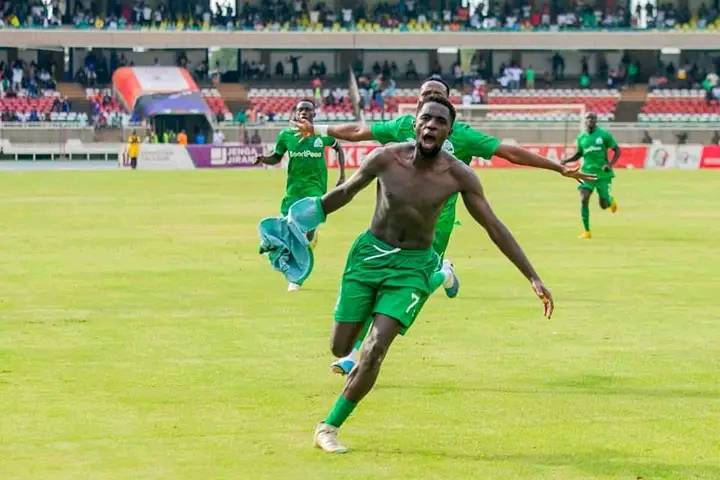 Austin Odhiambo had a solid first half of the season. But he really came to life in the second half. Here his performance was phenomenal scoring goals that were often spectacular. He netted 4 goals in the last 5 matches to solidify Gor Mahia's grasp on the title as the club faced intense competition from Tusker and Nzoia Sugar.
Nail Biting last 5 matches
With 5 matches left in the season, Gor Mahia held a narrow 1 point lead over Tusker atop the standings. Their next match was against arch rivals AFC Leopards who had not beaten Gor Mahia for several years. Gor Mahia needed to win this match not just to maintain their unbeaten run over their arch rivals but also to maintain their lead over the fast chasing Tusker. Leopards stunned Gor Mahia witgh a 2-1 win, which propelled Tusker to the top of the table. At this point, many Kogalo fans threw their hands in the air as it was unlikely that the experienced Tusker side would relinquish their lead. The following week Tusker held Gor Mahia 0-0 to consolidate their lead. Wazito came to Gor Mahia's rescue, beating Tusker while Gor Mahia beat Ulinzi 2-0. Gor Mahia were once again atop the standings, two points ahead of Tusker.
But Gor Mahia stumbled yet again, losing 2-3 to Kakamega Homeboyz. Fortunately, Tusker did not take full advantage. They got one point from their match and moved to within a point of Gor Mahia. The stage was now set for another dramatic final weekend. Many KPL fans harkened back to 2012 when Gor Mahia lost the league to Tusker on the last day. When Nairobi City Stars took an early lead in the last match, it appeared that there was going to be repeat of the 2012 disaster. But Gor Mahis scored four goals . City Stars had no further answers and Gor Mahia won 4-1 to wrest the title from Tusker and win the club's 20th league title.
Greatest Coaching achievement ?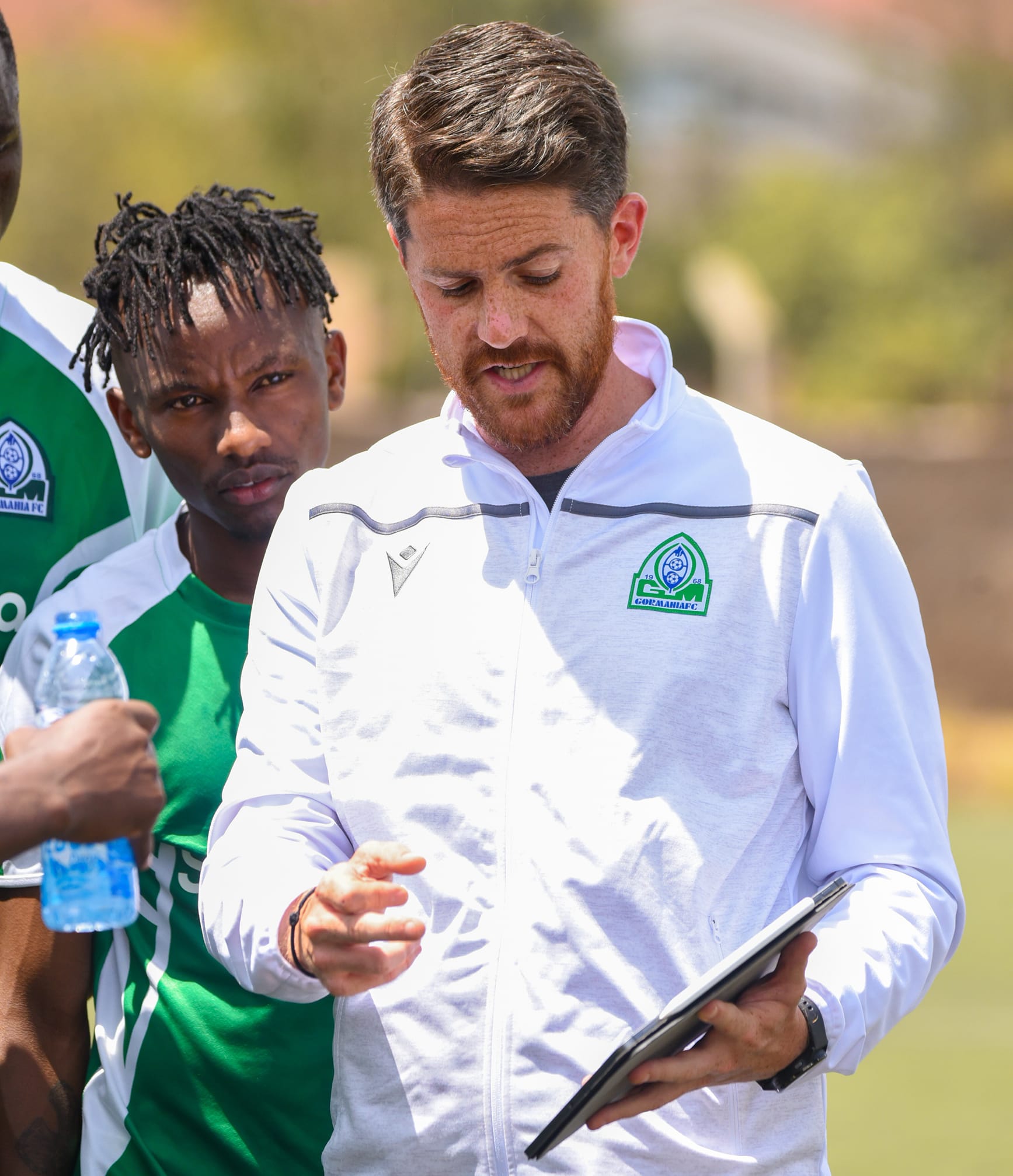 Whereas Gor Mahia's previous 19 titles were often won with star studded squads that included several national team players, the 2023 edition of Gor Mahia was very average talent-wise. In fact Gor Mahia only supplied two players to the Harambee Stars squad that went to play in a tournament in Mauritius in June 2023.  Credit must therefore go to Irish coach Johnathan Mckinstry for extracting water from a stone.