Bobby Ogolla admitted to hospital, Players visit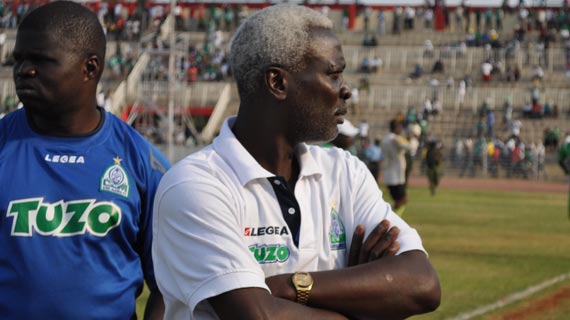 courtesy of goal.com
The former Kenyan international, was rushed to hospital on Sunday after complaining of chest pains and plans are underway for officials to visit him
Kenya Premier League champions Gor Mahia's assistant coach John 'Bobby' Ogolla has been admitted at Kenyatta National Hospital.
The former Kenyan international, was rushed to hospital on Sunday after complaining of chest pains.
According to Gor Mahia official Naima Oketch, they have been informed of the situation and were planning to visit him on Sunday.
"We have been surprised with the news that our coach has been admitted at Kenyatta Hospital. We are planning to go and see him and comfort his family. We wish him quick recovery," Oketch told Goal.
Update: Players visit Bobby
courtesy of futaa.com
Gor Mahia skipper Jerim Onyango and midfielder Anthony Teddy Akumu have today Monday 19 May paid a visit to their ailing Assistant Coach Bobby Ogolla at the Kenyatta National Hospital.
Booby was admitted at the Hospital after developing some kidney problem but has been said to be responding well to treatment.
Onyango assured the coach of their prayers as a team.
Integral part
-The whole team is in prayers for a quick recovery to our coach. We are sure he will get back on his feet soon because he is an integral part of the club, the Kenyan international told futaa.com
Bobby Ogolla is a former Kenyan international who once plyied for the Kenya Premier League (KPL) defending champions.