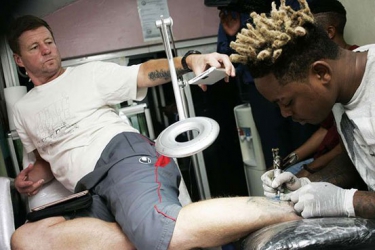 Gor Mahia coach Dylan Kerr surprised the Kenyan public on Monday when he got a tattoo of the club's logo on his leg. The tattoo was curved into his leg at a tatoo parlour on Moi avenue.
Some Kenyans questioned the wisdom of a tattoo considering that he is not going to be at the club forever. Kerr answered that question.
"It's there to stay. Its there for history. This is a fantastic memory. I have got three tattoos, two football ones and one for my mother who will be here in the course of the week," he told Nation Sport on Monday.
Kerr has said often that he is very happy at the club because Chairman Rachier gives him freedom.
"I had planned to unveil it as a surprise in our last game on Saturday but you guys have revealed it. Should I plan for another surprise? I don't know," joked the 50-year-old.
Other fans wondered whether he would get a tattoo each time Kogalo wins a trophy. But this is his first major title.