Tobias Ocholla leads former players in lauding Kogalo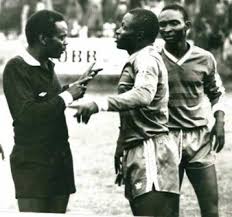 Club legend Tobias Ocholla was a key performer when Kogalo eliminated Hellenic of South Africa also on away goal rule in 1993. He was elated at the historic performance that saw Kogalo qualify for the CAF Confederations cup.
"Despite their ups and downs I think they have remained very steadfast. This is a team that needed a good Samaritan to pay for their travel and for me it's the best way to show they are thankful. "Now more people will want to help," said Ocholla to Citizen Sports
Ocholla was especially high on Francis Kahata
He's been brilliant throughout and that has come with a lot of hard work. He is a very technical player and I think the coach (Kerr) has added something new to his game; he likes to give confidence to his players.
"Kahata was not even going to South Africa but I think it was the intervention of God that he got his passport and went on to score the goal that propelled Gor to the group stage," Ocholla continued.
Ocholla also noted that the money made available by CAF will serve to motivate the players.
"The money they will get at every new stage should be a motivation but they have to keep believing in themselves because they have the right quality. Sometimes you can see they're too good for the KPL and it also tells you a bit about their depth.
Ocholla concluded by stating that Gor Mahia's feat will serve as motivation for other Kenyan sides.
"What Gor have done is commendable because they have put Kenya back to a map where we have been out for a very long time. It's a challenge for those behind them in the KPL to work hard," the iconic captain who led Gor and the national team through their best ever runs at continental level said.
Rama Salim
Congratulations @OfficialGMFC ? Gor biro pic.twitter.com/akoZKle1ZE

— Rama Salim (@rama_salim) April 18, 2018
Michael Olunga
Congratulations @OfficialGMFC for your qualification to #CAFCC group stage. #Godaboveall pic.twitter.com/czibBf1xqD

— MICHAEL OLUNGA (@OgadaOlunga) April 18, 2018
Geoffrey Baba Kizito