Da Silva targeting 15 goals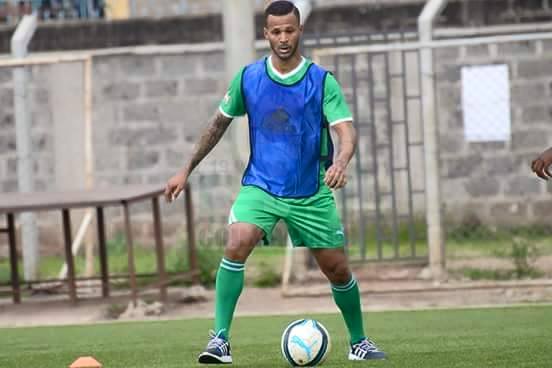 Gor Mahia's Brazilian striker Thiago Lima Da Silva is eager to make his presence felt in the Kenya Premier League. Da Silva who played for CD Monte Carlo in the Macau league, is promising to score at least 15 goals during the second leg of the KPL season.
"In 10 months while at Monte Carlo, I scored 24 goals, now in five months with Gor Mahia, I want to score at least 15. I know I can make it although I don't know much about the Kenyan league," Da Silva told Capital Sport.
So far Da Silva has appeared in one friendly match (against Naivas) where he came on as a second half substitute. He says he is happy with the welcome he received in Kenya as well as the weather.
"So far, I feel happy with the club. Everybody has welcomed me well and the weather is good just like Brazil. I've heard so much about the club, the fans and how they love the team and I look forward to the experience," he added.
Da Silva is currently awaiting an International Transfer Certificate (ITC) before he can turn out for Kogalo.
There are currently doubts about Da Silva. But the club chairman has insisted that they trust Ze Maria's. And team captain Musa Mohamed concurs.
"He (Marcelo) has brought a lot of confidence into the team because he is a coach who trusts in the players. We have grown as a team, playing more with the ball. He has brought good change to us," Mohammed said to Capital FM.
Oguda discredits Tusker Protest
Tusker FC on Tuseday filed a formal protest against Gor Mahia asking to have Gor Mahia disqualified from the KPL Top 8 because Gor Mahia fielded Baron Okech Jobita whom Tusker claims is ineligible.
"We are hereby launching a complaint over Gor Mahia fielding an ineligible player; Baron Oketch during our KPL Top 8 match against them on the 12th of June 2016 at Nyayo Stadium. Subject to this, we are requesting to be awarded the match as the rules were not duly followed," the letter, signed by Tusker CEO Charles Obiny, said.
Tusker forwarded their protest letter to both FKF and the IDCC
However KPL chair Jack Oguda stated that Jobita was duly registered by the club and thus eligible to play on Sunday.
"They sent a protest and we responded this morning. The player is duly registered and documentation has already been sent to FKF for the issuing of his license," Oguda said.