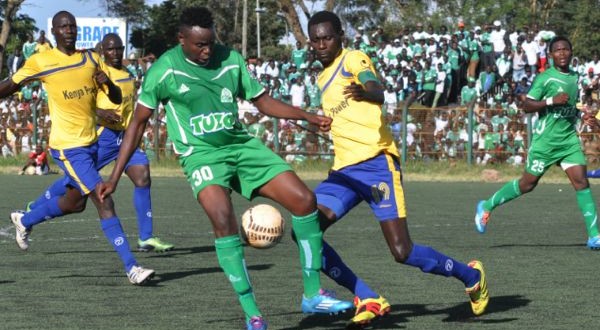 There are 7 players whose contracts have run out and will not be renewed. Club Chief Executive Officer Lordvic Aduda told Supersport.com that the contracts of Patrick Oboya, Innocent Mutiso, Charles Bruno, Kennedy Ayong, Ian Niva, Simon Mburu and Angelo Okumu.
Patrick Oboya joined Gor Mahia in early 2013. He showed flashes of brilliance in 2013 despite injuries. But in 2014, he hardly featured having been plagued by a nagging injury. Innocent Mutiso has also played well when fielded but has also missed large swathes of the season with injuries.
CEO Ludovick Aduda stated that the club is in contact with coach Frank Nuttall. "The coach has told us who to be released, loaned out and who to be retained. He also had areas he wanted beefed up," said Aduda.
Aduda went on to explain why the players were released. "The players we have released were not adding much value to the team because they were not playing much. Others have shown interest elswhere like Oboya who has been out of the country on trials. Mburu is wanted by Rangers so we have put so many things in consideration before making the decision," added Aduda.
It is also a fact that Gor Mahia is broke and cannot afford to pay players who miss large swathes of the season with injuries.
Other players who may add value to the team at a later date will be sent on loan. Joel Bataro who joins Shabana, midfielder Daniel Onyango who is headed to Sony Sugar and Joseph kariuki who will be loaned to Kakamega Homeboyz.
Bataro is young and promising. But in 2014 he could not even feature when Jerim Onyango was absent as coach Bobby Williamson preferred David Juma. And with Boniface Oluoch signed, Bataro will be further down in the pecking order. Daniel Onyango and Joseph Kariuki have both shown promise.
Charles Bruno played decent when fielded. But with the team signing Dirkir Glay and already having Israel Emuge and Haron Shakava, Bruno would most likely not see playing time.
Glay who has been playing for Thika United explained why he chose Gor Mahia. "I did not just leave Thika United for Gor Mahia; I came here for a challenge. I knew here I will get a bigger challenge as a player because this is a club preparing for continental duty and I want to be of help to the team in the Champions League. It will be my first taste of continental action and I am happy to be here and ready for the challenge, he said to futaa.com