Gor Mahia players apparently stopped training as Nuttall on leave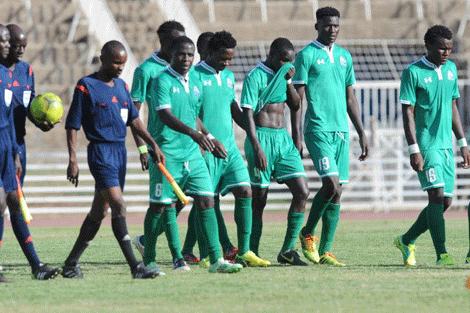 Reports suggest that Gor Mahia players did not train on Tuesday while demanding their match winning allowances.
"It is true we have not trained today (Tuesday), nobody wanted to train. We feel unappreciated and taken for granted, why should they treat us like that?  We gave out our all, we bled for the team and that is not right. We have a meeting with chairman on Wednesday to know the way forward." said a player to goal.com
Club official David Kilo acknowledged the player strike but insisted that the club is working round the clock to resolve the outstanding allowances.
"Yes, we owe them winning allowances, which is true. However, I cannot comprehensively reveal to you what has happened today since I had traveled. I will get back to you, once I get the detailed report. We have settled their salaries though," said Kilo to goal.com
Gor Mahia are supposed to be busy preparing for their Africa champions league return leg against AC Leopards. The club has also organized a fundraiser scheduled for Tuseday to defray expenses related to their travel to Congo.
The issue of constant player strikes and go-slows makes it more urgent that the club put in places procedures that will provide a measure of financial stability. It remains to be seen whether the club will ever move forward with such measures or whether they will continue to maintain the fire brigade approach where they wait until the building is on fire before dousing it with water.
Nuttall on brief leave
Meanwhile with no matches scheduled for several days, coach Frank Nuttall has taken a brief opportunity to visit his family. Reports suggest that Nuttall has taken several days off leaving Frank Ouna and Bobby Ogolla in charge.
"Since we have not had any activity, the coach decided to take a break and visit his family. We expect him back on Thursday and will train with the team for three days before we play AC Leopards," Ouna told goal.com.
Nuttall has left with a specific program that the assistant coaches must follow. Ouna down-played the absence of the coach and said he left them well equipped until he returns. "We are doing just fine because he gave us a program we are following. We expect to do well in the return match because our opponents will be under pressure at home."
Being away from your family for several months is not easy and the club certainly cannot begrudge the coach an opportunity to visit his family. The rest will leave him refreshed and ready to resume the fight for the local league title.
Calabar Training with Gor Mahia
Among the players who has trained with Gor Mahia in the past few days is David Owino Calabar. He is ineligible o play for Zesco in the champions league and as such has returned to Kenya to keep his fitness up.
"He has been training with Gor Mahia for sometime because his name was sent to Caf late for first round of continental tournament. Zesco have travelled to Mali this weekend and he will be with us until he is able to join them next week," Ngala told Goal adding, "We hope his presence can inspire the rest of the players to aim higher as well."
Calabar has had a good start at Zesco which includes scoring two goals in the Zambian Supercup.