New era starts as Gor Mahia take on KCB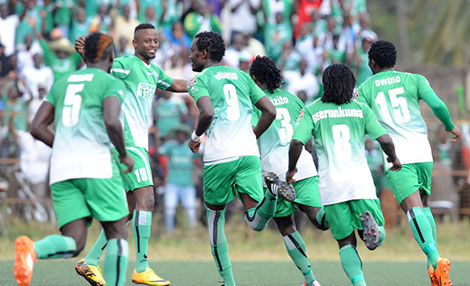 Gor Mahia start the post Bobby Williamson era when they take on KCB on Thursday.
According to team captain Jerim Onyango, the playing unit has gotten over Williamson's departure and is ready to move on.
"As a player you always have to be prepared for such things and be ready to work with anyone at any-time. Williamson had a great influence on this team and we will miss him but we have to move on." he told goal.com.
Team manager Frank Ouna is the man charged with taking the club through this transition period as Gor Mahia search for a new coach to take them through the end of the season.
On paper, Ouna is certainly qualified. He is a  Master's degree Holder (MIS) and BSC (IT) degree from Moi University is an experienced and well trained coach with  a UEFA B coaching License  adding up to his previous DFB Level  II course in Germany and CAF Level "C"
But despite all these qualifications he has scant coaching experience. At Gor Mahia he has been in charge for only one game. It was the KPL top 8 match against Tusker which Kogalo lost.
In the last match against SoNy Sugar, the club was bailed out by individual brilliance and in particular Geoffrey Kizito's free-kick. On Thursday against KCB , it will likely come down to the playing unit again. Which is why the club's fan base must turn out in large number to lift the team.
KCB will be no pushovers. They are on the recovery path, are determined to escape relegation and won their last match according to their coach and former Kenya international Rishad Shedu.
"The morale at camp is still very high and I am sure that in our remaining eight matches we shall rise to safety because the boys also want to remain in the league.
"We want to stay out of relegation zone. I am glad the team has begun to pick up at the right time and considering renewed confidence during training, I believe they will overcome the challenge."
And striker Mungai Kiongera who scored in their last match will likely want to leave on a high note as he departs for Tanzania.
But the Gor Mahia playing unit is under no illusions about the difficulty of this match. They are also determined to stay focused in the remaining 10 matches.
"Our focus is to take each game as it comes. We are not focusing on how many matches we have remaining or the advantage we have. Instead, we want to work hard in each game and make sure that we pick maximum points," continued captain  Jerim Onyango to goal.com
The fan base must show up and do their part to lift the players.
Starting Line-Up
Starting IX: 1 Jerim Onyango 5. Musa Mohammed 18 Harun Shakava, 15 David Owino, 2 Godfrey Walusimbi, 3 Geoffrey Kizito, 10. Daniel Onyango, 6 Collins Okoth, 25. George Odhiambo, 8 Timothy Otieno, 8 Dan Sserunkuma
Substitute: 16 David Juma . 27. Simone Pierre, 13. Charles Bruno, 17. Eric Ochieng', 7. Simon Mburu, 30. Patrick Oboya, 14. Kennedy Opiyo