Gor Mahia vs Young Africans through the years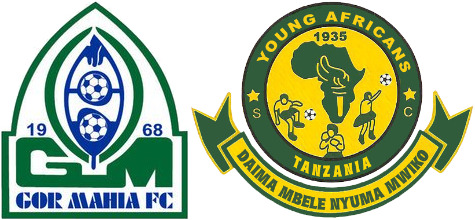 Gor Mahia will face off with hosts Young Africans (Yanga) of Dar es salaam in the opening encounter of the 2015 CECAFA club cup aka Kagame cup.
In previous years, Gor Mahia has had a torrid time playing against Simba FC. Their results against Yanga, while better, also show that Yanga FC are no walk in the park.
Encounters between these two sides go back to the 1970s and 1980s. In 1982, the CECAFA club cup was played in Kenya and Gor Mahia were placed in group B which was based in Kisumu. This was a Gor Mahia unit with players like Bobby Ogolla, Abbey Nassur, Tim Ayieko, Sammy Owino "Kempes", Austin Oduor. George Ayuka and Nahashon Oluoch among others. Gor Mahia played Yanga in the 3rd match after having drawn 1-1 with Bata Bullets of Malawi and beating KCC of Uganda 1-0. On that occasion, Gor Mahia beat Yanga 3-1 to top their group.
The period around 1980 was when Tanzanian football was at its peak. That year they thrashed Kenya 5-0 in a world cup qualifier and had qualified for the Africa nations cup. Among the Yanga players in Taifa stars was Juma Mukambi who scored against Nigeria at AFCON 1980 and Charles Boniface
In 1984, Gor Mahia faced off with Yanga in the opening round of the Africa champions cup. Prior to traveling to Dar es Salaam, Gor Mahia camped in Mombasa for 2 weeks in order to acclimatize to the hot and humid conditions in Dar es Salaam. In addition to the experienced duo of Boniface and Mukambi and Boniface, Yanga also had Ahmed Amasha who was far and away the best left full back in the CECAFA region at the time. All were household names in Kenya.
On that occassion, the first leg was played in Dar es Salaam. In the Gor Mahia line-up on that occasion were were two Tanzanians who had defected to Kenya: Abdallah Shebe and Abbas Magongo. Both returned to their old stomping grounds to reign terror on their compatriots.
The match ended 1-1. Gor Mahia had taken the lead in the 67th minute via new signing, the 18 year old  John Okello "Zangi" before Yanga scored a late equalizer. The return leg was a tense encounter as Yanga played Gor Mahia tough and gave as much as they received. Gor Mahia prevailed 1-0 thanks to an 84th minute goal by Sammy Onyango "Jogoo" who beat Joseph Fungo in the Tanzanian goal with one of his long range grass cutters. It was a thunderous drive.
The following day, the daily Nation headline read as follows: "Sammy Onyango blasts Gor Mahia into round 2".
The line-ups on that day:
Gor Mahia: Tirus Omondi, Peter Otieno Bassanga, George Otieno Vigo, Austin Oduor, Abbas Magongo, Hezborn Omollo, Abbey Nassur, John Okello Zangi, Abdallah Shebe, George Onyango Fundi, Sammy Onyango
Yanga: Joseph Fungo, Yusuf Bana, Ahmed Amasha, Athumani Chama, Ishtaka Hassan, Juma Mukambi, Hussein Iddi, Charles Boniface, Abeid Mziba, Elisha John, Ali Mchumila.
In 1996, The CECAFA club cup was played in Tanzania and Gor Mahia faced Yanga yet again in the preliminary round. It was a strong Gor Mahia side with players like Joseph Asembo, Dan Shikanda, Tom Ochieng, Joseph Owino, Dan Ogada, Tom Okaya, Allan Odhiambo. They had just won the league for the fourth time in six years.
On that occasion, Gor Mahia held the hosts 1-1. They topped group B but lost 0-1 to Simba in the semis.
Today
The 2015 edition will not be an easy encounter either. Yanga warmed up for the match by beating Police Combined 3-0.  After the match, their Dutch coach Hans van Pluijm signified that they still had room for improvements.
"I don't want to judge my players after two matches…we still have one week to prepare for the tournament and that's when I will be in a position to comment on their performance", Pluijm said.
"Some new players have come in and have yet to synchronise. But we have new players like (Deus) Kaseke that have been impressive…we can get better in time".
Yanga are a star studded squad. Among the players to watch are Rwandan international of Democratic Republic of Congo (DRC) origin, Mbuyu Twite who is an excellent passer and playmaker.
Right Winger Simon Msuva who recently attended trials in South Africa  will keep Sibomana, Musa Mohamed and Nigiziyimana busy all day. Despite his short stature he is a handful. He is fast, a good dribbler , good crosser and scores plenty of goals. He is the reigning top scorer in the Tanzanian league.
Defender Nadir "Cannavaro" Haroub is one of the most experienced players. he is a good reader of the game and will have studied and prepared for the Kagere-Olunga combination.