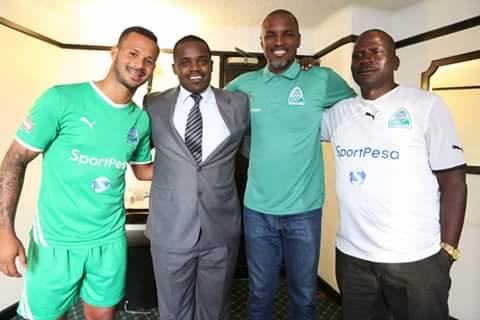 After hiring Brazilian coach Jose Marcelo Ferreira, Gor Mahia have imported two more  Brazilians: , striker Thiago Da Silva and Marco Aurelio who will be the club's assistant coach jetted in Nairobi on Friday to join the team ahead of the second leg of the season.
The duo were met at JKIA by team manager Jolawi Obondo and club official Naima Aketch.
"I'm happy to be in Kenya, a new place. I expect to score many goals. I have been in China and scored 23 goals in the last 10 months. I was the second top scorer," Thiago, who was struggling to express himself in English told Citizen Digital upon arrival.
Silva was asked about his familiarity with the Kenyan football scene and Gor Mahia in particular.
"I have been watching Gor on TV and Internet,"  he said.
Aurelio, the assistant coach, was signed from Monte Carlo FC that plays in the Macau first division.
Gor Mahia officials have no information about the player nor the coach. But they are certain that he will not end up being another Giovanni Rodriguez Bissolli.
"We as officials have no background information of the player but we have confidence in the coach's choice. How can a coach recommend a substandard player? He needs to perform more than anyone else," club secretary, Ronald Ngala said to Citizen sports.
Bisolli was recomended by a local agent to the club in 2013 but could not measure up to the Standards needed by the club and reported to the team while several kilograms overweight.