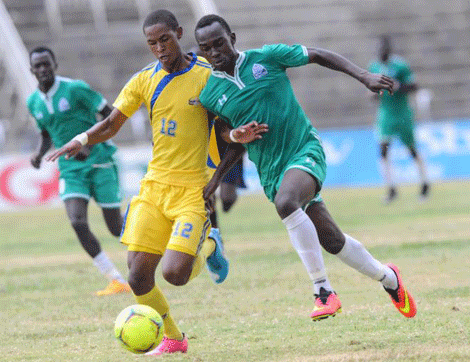 Gor Mahia squeezed a 1-0 win over CNaPs of Madagascar. Gor Mahia got off to what looked like a bright start when in the 2nd minute, a  penalty from Ali Abondo gave Gor Mahia an early lead which they held until the end of the game. The penalty resulted when Mike Olunga was fouled in the penalty box. Khalid Aucho whose precise pass to Abondo resulted in the goal against Sofapaka, also delivered another precise pass to Olunga who was fouled resulting in the penalty.
Gor Mahia put CNaPs under pressure throughout the first half but could not tack on another goal. In the second half, CNaPs came back more confident and created a number of chances. In the 57th minute, a precise move by the Islanders ended with Simouri crossing to Rajaonarivelo. But the latter was a step too late. Ten Minutes later it was winger Olivier Ralaidimy whose dangerous cross was cleared by Kevin Oluoch as Rajaonarivelo charged towards the ball.
Boniface Oluoch was in fine form making a number of critical saves to save the scoreline for Gor Mahia. The most critical came in the 81st minute when Nono Vombola found himself one on one with Oluoch following a defensive lapse. But the alert Oluoch saved the day from what would have been a crucial away goal for the Islanders.
After the match coach Sammy Omollo "Pamzo" stated that Gor Mahia's tactical formation did not work. In particular he stated that Walusimbi should have been fielded further upfront, similar to how he played against Sofapaka. He also cited innefective substitutions by coach Nuttall.
Gor Mahia coach Frank Nuttall for his part blamed his side for many lost chances. "We deserved to win by a bigger margin but the team is still jelling and so we lost some clear chances." The return leg will be played after two weeks away.
Gor Mahia now face a tall order defending a one goal lead against the Madagascans in two weeks. On a positive note, they did not concede an away goal. As such they need any kind of draw to advance.
Line ups
Gor Mahia Starting XI: 23. Boniface Oluoch (GK), 5. Musa Mohammed, 4. Kevin Oluoch, 26. Glay Dirkir, 2. Godfrey Walusimbi, 10. Khalid Aucho, 8. Jerry Santo (17. Eric Ochieng' 55'), 7. Ronald Otieno Omino, 30. Ali Abondo, 9. Timothy Otieno (25. George Odhiambo 64'), 19. Michael Olunga
Unused Reserves: 12. David Juma (GK), 24. Israel Emuge, 6. Collins Okoth, 15. Bernard Odhiambo, 18. Harun Shakava,
CNaPS Sports Starting XI: 16. Randrianasolo (GK), 22. Andoniaina Rakotondrazaka, 18. Toby Njakanirina (CPT), 4. Feno Ratolojahanary, 17. Rajaonarivelo, 12. Njiva Rakotohalihalala (11. Jean Andriamangason 68'), 20. Ramanitrandsana. 5. Michael Rabeson. 9. Nono Vombola, 7. Simouri (3. Olivier Ralaidimy 59')
Unused Subs: 1. Andonianina Andriamalala, 2. Andy Tahiana Randrianarisoa, , 6. Vonjiniaina Razafimahatrara, , 19. Milison Niasexe, 20. Miandrisoa Ramanitrandrasana