Its time to find a successor to Ambrose Rachier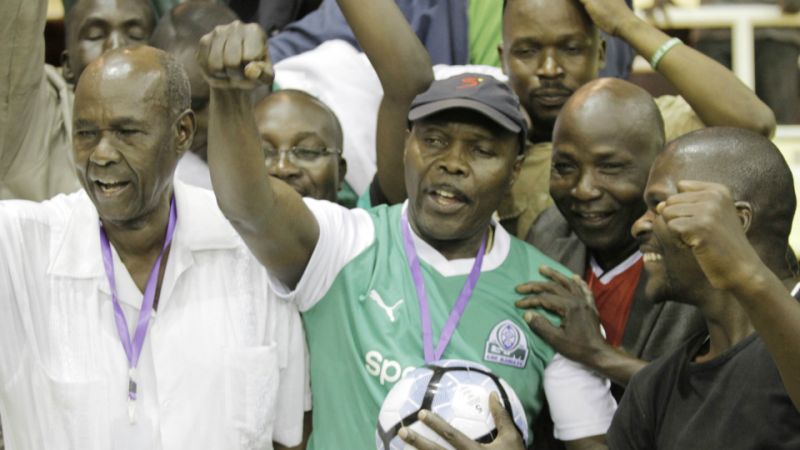 This club is in dire straits. It has been in terrible shape for several months now. Players have gone several months with little or no pay. Many key players have recently left. More are set to leave. There are reports that Simba of Dar es Salaam are planning another raid. There are reports of an impending mass exodus of players. The Chairman has not done much or anything to mitigate this quagmire.
If the league were to resume in August, the club might not even be able to honor matches because matches will be played to empty stadia. The Chairman himself admitted that he has not created a post Covid 19 plan. Where will the club get funds to honour matches?
Most fans understand that if this club were to start taking the issue of Accountability and Transparency seriously, the club can raise a lot of money. The lack of transparency is the biggest stumbling block that keeps the club and its players in poverty. Fans have read reports of gate proceeds being pocketed by officials, reports of club officials demanding bribes and clear evidence of officials under-reporting attendance. With this in mind, the fans, many of whom are not financially stable, are unwilling to blindly give their money to the club.
However what has become clear is that Chairman Ambrose Rachier does not have any intention of ever being transparent or accountable. He has made that clear. And at the age of 71, he is too set in his ways and cannot accept change. Even if he is pushed, he will only engage in half-hearted transparency measures. Just as he did with eTicketing where he tried it for one game and then gave up and made a lame excuse for why it would not work. He wants to run this club exactly how it was run in 1968 (52 years ago). And he is not open to new ideas.
However the Post Covid 19 scenario will require a different way of thinking. There will be no sponsor. And no gate collections. Even if the government re-opens business, many fans will stay away of stadia for fear of Covid 19. The normal way of running the club will not be viable.
How will the club survive?
The time has come to search for a more dynamic leader who can think out of the box. Just as fans brought Rachier to rescue the club in 2008, it is time for the different fan groups and branches to start an active search for a new Chairman.
There are over 200,000 committed Gor Mahia fans. Many of them occupy senior positions in corporations. It is impossible to imagine that fans cannot find a person to lead this team on an interim basis. A person who understands business aspects, understands how to promote and market the team and has contacts in large corporations that he could use to negotiate potential sponsorships. And above all things THIS PERSON MUST BE 100% COMITTED TO TRANSPARENCY. If no such person can be found then we may as well maintain the status quo.
With an accountable office, member subscriptions, merchandize sales and other aspects will increase significantly. And in the Post Covid 19 scenario it will be critical for the club to restart initiatives like Gor Mahia bread and Gor Mahia water in order to sustain the club.
This person would lead the club only on an interim basis. His/Her primary task will be to put in place structures that can sustain the club. He would then pave the way for elections.
My vote would go to Carol Radull.
Having watched Carol Radull interview football officials, it is clear that she understands what it takes to market and promote a club. She clearly understands the importance of transparency and accountability. She understands how to bring in the right people and hold them accountable. Plus with her media exposure, she would be the kind of person this club needs to put stall the impending disaster. She will give fans and players hope.
In the likely case that Carol declines, Kogallo must still find a new dynamic leader with a proven record of leading an organization who can come in on an interim basis, stabilize the club, lay the foundation for a future modern club, modernize the club's constitution and then pave the way for elections. Surely there must be such a person amongst Gor Mahia's legion of fans. In 2008, fans found Rachier and asked him to run the club. Surely we can find a new dynamic leader in 2020.
Rachier should cement his legacy
When Rachier announced that he would resign in December of 2019, perhaps the most disappointing aspect of his announcement was that he said he would not assist the club by finding a suitable replacement.
Flashback to 2008. The chairman was Erastus Okul. As a club Chairman, he was grossly incompetent. He was only known for constantly fighting with the KPL and FKF leaders, sowing disorder and instigating the creation of parallel leagues. But he redeemed himself when he gracefully stepped aside to allow Ambrose Rachier to take over. He admitted that he was incapable of lifting the club from its morass and stepped aside for Rachier to take over.
Now Mr. Rachier appears to have run out of ideas. Like Okul he can redeem himself by helping spearhead the search for a qualified individual who can help restore this club. He has created a good legacy by steering the club to six titles (4 league and 2 cups). Rachier should be thanked for lifting the club out of his mediocrity. He can cement his legacy by leaving the club to new leadership that can take the club out of its current quagmire and take it to the next level.
Commentary by Vincent "Video Editor" Ogutu