Gor Mahia have retained Jerim Onyango as team captain for the 2015 season. This according to a story posted on goal.com. Musa Mohamed has been appointed as Vice Captain. Jerim was voted captain by the players last season.  The duo are the longest serving players in the team. Jerim who is 30 has been around since 2008 when he joined the club from KRA. You can spot the excited Jerim in the picture below.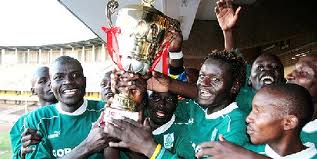 Musa Mohamed takes over as Vice captain from David Owino "Calabar" who departed for Zambia in January. Musa joined Gor Mahia straight out of secondary school where played in an excellent Langata high school squad that won the national schools title in 2009.
The captain's armband is typically given to the most experienced player or the player with good leadership skills, is respected by most players or a combination of all three. Typically the players vote for the captain at the beginning of the season or the coach selects the captain.  Jerim possesses all these characteristics. He is experienced, is level headed and has good leadership skills. Which is why he was elected captain in 2014.
It is also usually given to a player who is almost certain of a first team place. However in the current configuration of Gor Mahia, and based on current form, there are probably only two or three players who are assured of a place in the starting line-up. Just ask "Gattuso" who was shell shocked to find himself benched for the Africa champions league tie this past Saturday. This being the case, Gor Mahia will likely need to select a second Vice Captain to take over the armband in case both Musa and Jerim are not on the field.
KPL Kickoff
Gor Mahia will kick off their league campaign this next Saturday, February 21 against Mathare. The match is being held against a backdrop of a tug of war between KPL and FKF regarding whom should run the league. FKF have already fined Gor Mahia and Sofapaka Ksh 200,000 for playing in the 2015 DSTV Super cup. The meeting between KPL and FKF that was held on Wednesday did not bear any fruits.
Ambrose Rachier who attended the meeting said the two sides could not reach an amicable agreement.
"There is no resolution from the meeting since we could not agree, the chairman of the meeting (Nyamweya) suggested that we take a vote. We could however not take part in it because the FKF team way outnumbered KPL team" according to futaa.com
Meanwhile sports minister Hassan Wario vowed to take action is the two parties do not reach an agreement. But his options are limited. Should be remove Nyamweya from FKF, Sepp Blatter and FIFA will immediately ban Kenya football within hours.
Goal.com even reported that none other than President Uhuru Kenyatta phoned Blatter about the situation in Kenya but Blatter stuck to his guns and insisted that Nyamweya and FKF must be in charge of all football activities in Kenya. Remember that Blatter feels he must support local officials at all costs so that they can vote for him at the next FIFA election where for the first time in years, Blatter is running against credible candidates.
Meanwhile the FKF premier league kicked off last weekend with Shabana playing Nakumatt. It remains to be seen  whom Shabana and Nakumatt will play next.