Mbish and Kahata in action as Keya trounce Ethiopia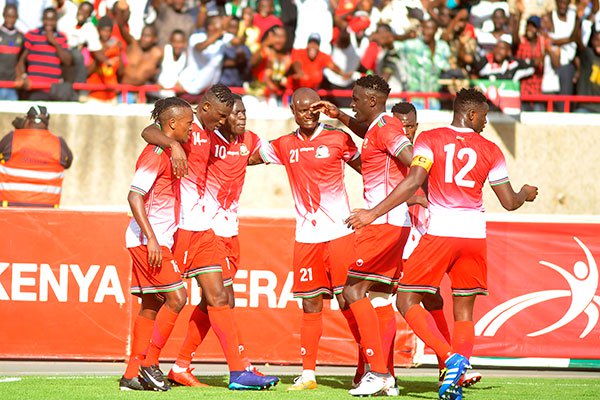 Kenya moved closer to qualifying for the 2019 Africa Nations cup when they hammered Ethiopia 3-0 at Kasarani on Sunday. It was one of the most impressive performances by Harambee Stars in recent years. In action were two Gor Mahia players, Francis Kahata and Philemon Otieno Mbish. Also in action were former Gor Mahia players, Michael Olunga, Musa Mohamed and Eric Ouma Marcelo.
Michael Olunga scored a spectacular opener, picking up a pass from Eric Johana before curling the ball home from an impossible angle. It was a goal reminiscent of those scored by Gor Mahia legend Gideon Hamisi in the early 1980s.
Eric Ouma "Marcelo", playing in midfield, was instrumental in goal number 2, sprinting down the left flank, before sending a cross which Eric Johana scored with a superb volley. Wanyama would then score the third goal from the penalty spot after Johana was fouled.
Of Note: Ethiopia had two Luos playing for them: Gatoch Panom and Omod Okwury. Both from the Gambela region. It is noteworthy because Ethiopian Luos who are known as Anuak are typically marginalized and the Gambela region has been war torn for decades.
Gamewise, Philemon Otieno was solid, playing on the right full back position. He constantly disrupted the flow of the ball when Ethiopia tried to build a move. Musa Mohamed was rock solid in central defence. Olunga did very well and looked dangerous each time he got the ball. However the supply of balls to Olunga was below par. Eric Ouma was a livewire on the left flank causing the Ethiopians headaches especially in the first half.
Ethiopia looked very good on the ball in the early stages, stringing together passes and leaving Kenya chasing shadows. They almost scored from one such move but Getaneh Kebede sent his effort wide.
Kenya changed tact, pressing the ball from up high and giving Ethiopia less space on the ball. It was then that Olunga scored the opening goal. Only five minutes later the pressure almost resulted in a second goal when Olunga dispossesed an Ethiopia player but saw his effort saved.
Ouma's speed on the flanks proved too much for Ethiopia as he whipped in a cross. Kahata missed an attempted diving header but the ball fell to Johana who finished with a well taken volley.
A good build up in the 64th minute saw the ball go to Johana who was fouled after he had beaten an Ethiopia defender. Wanyama took the resulting penalty and scored the third.
Another good build up found Dennis Odhiambo with space on the edge of the box. He could either aim for goal or pass to a wide open Olunga. He went for goal and his shot went inches over the bar.
Patrick Matasi in the Kenya goal was not called upon often but was solid when he was called into duty.
Sierra Leone have been given a month to comply with CAF demands. If the Sierra Leone's ban is upheld then Kenya has already qualified. If Sierra Leone is restored next month then qualification still up in the air because all four teams are still in contention.
| | | | | | | | | | |
| --- | --- | --- | --- | --- | --- | --- | --- | --- | --- |
| 1 |  Kenya | 4 | 2 | 1 | 1 | 5 | 2 | +3 | 7 |
| 2 |  Ethiopia | 4 | 1 | 1 | 2 | 1 | 8 | ?7 | 4 |
| 3 |  Ghana | 2 | 1 | 0 | 1 | 5 | 1 | +4 | 3 |
| 4 |  Sierra Leone | 2 | 1 | 0 | 1 | 2 | 2 | 0 | 3 |
Kenya Starting XI: 18. Patrick Matasi (GK), 3. Abud Omar, 15. Philemon Otieno, 5. Brian Mandela, 2. Musa Mohamed, 21. Dennis Odhiambo, 12. Victor Wanyama (C), 10. Eric Johanna, 16. Francis Kahata, 13. Eric Ouma, 14. Michael Olunga
Unused Substitutes: 1. Faruk Shikalo, 23. Brian Bwire, 20. Bernard Ochieng, 22. Joash Onyango, 4. David Ochieng, 6. Anthony Akumu, 8. Johanna Omollo, 17. Ismael Gonzalez, 19. Paul Were, 7. Ovella Ochieng, 9. Piston Mutamba, 11. Allan Wanga
Ethiopia Starting XI: 1. Samson Asefa (GK), 9. Getaneh Kebede (9), 15. Aschalew Tamene, 4. Anteneh Tesfaye, 20. Mulualem Mesfen, 3. Ahmed Reshad, 6. Gatoch Panom, 18. Shemeles Bekele, 2. Abdulkerim Mohamed, 12. Dawa Hotessa, 11. Shemket Gugesa
Unused substitutes: 23. Shanko Balcha, 17. Mujib Kasim, 5. Henok Gebra, 13. Kastro Amaye, 21. Amesalu Telahune, 11. Omod Okwury, 7. Abel Yalew, 10. Beneyam Demte, 14. Adis Giday, 8. Amanuel Yohannes, 19. Kenyan Markene, 23. Tyson Merya