Musa, Marcelo and Tuyisenge in team of the season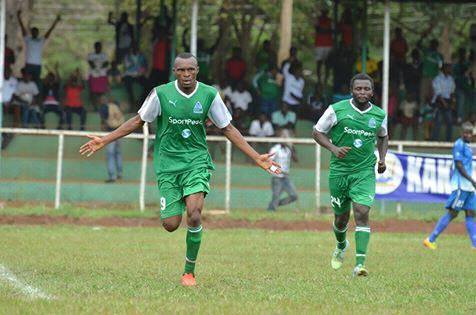 Three Gor Mahia players, Musa Mohamed, Eric Ouma and Jacque Tuyisenge have been named to the 2016 KPL team of the season for 2016 as named by the Standard
Goalkeeper: David Okello (Tusker)
Okello is largely responsible for helping the brewers win the Kenyan Premier League (KPL) title in the just concluded season.
At the beginning of the season, Tusker coach Paul Nkata preferred to rotate goalkeepers and it was not clear who he preferred something that seems to have cost the brewers a lot in terms of consistency.
But when Okello took a permanent position between the posts, the brewers hardly conceded goals with the veteran goalkeeper making some outstanding saves. The most memorable was saving a penalty against Sony Sugar at Awendo three weeks ago in a match Tusker won 1-0 and all but confirmed their title credentials.
Noah Abich (Sofapaka)
He joined Sofapaka in the second leg of the league but still put in an impressive performance to ensure the 2009 KPL champions survived against relegation.
The former Mathare United defender was simply outstanding at the back but he was most crucial whenever Sofapaka got a penalty or free kicks which he easily converted.
His most memorable performance was during a 3-2 win against AFC Leopards on October 28 at Machakos Stadium when he assisted in all three goals.
It is a performance that rightfully earned him the October player of the month award from the Association of Sports Journalists of Kenya (ASJAK).
Eric 'Marcelo' Ouma (Gor Mahia)
That a 20 year old prodigy warmed his way into the starting line-up of Gor Mahia will remain one of the stories of this season.
Previously unknown Ouma burst into the limelight at the beginning of this season with his impressive ability to bring in crosses from flanks that left everyone awestruck.
His ability to assist the team's striking force resulted in some crucial goals. He was able to also defend well especially against more experienced strikers and easily displaced Abouba Sibomana at the Gor Mahia backline in a performance that earned him a permanent slot in the national team Harambee Stars.
Musa Mohammed (Gor Mahia)
Consistent and dependable. He is the reason Gor Mahia conceded the least number of goals the whole season when they let in just 14 goals.
Mohammed started in most of the matches Gor Mahia played in this season showing an impressive ability to avoid injuries and was even the field captain of the former KPL champions. In total Mohammed has played more than 250 matches for Gor Mahia since he joined the club six years ago. In that period Gor Mahia has had atleast three coaches all of him have found him indispensable for his ability to defend well.
George 'Wise' Owino (Mathare United)
Like wine which gets better with age, Owino has not shown signs of slowing down. His best year was no doubt in 2008 when he had a permanent placed in the national team Harambee Stars. After that, injury put him out for a long time only to re-emerge at the beginning of this season and re-unite with Mathare United coach Francis Kimanzi who seems to know how to get the best out of him.
Owino started in all the 30 matches United played in last season and was cautioned only twice. His big frame at the back was always intimidating to United's opponents.
Whyvonne Issuza (Mathare United)
He scored an impressive eight goals to emerge the top scorer for Mathare United in the just concluded season. He also had several assists to help his side have a strong finish.
When dependable midfielder Eric Johanna temporarily left Mathare United to attend trials in Sweden three months ago, the task to marshall the midfield was left to Isuzza and he did a good job of it scoring and providing assists for crucial goals. He has done everything to take over from Johanna as midfielder of the year.
Kenneth Muguna (Western Stima)
He was the youngest recipient of the Association of Sports Journalists of Kenya (ASJAK) monthly award for August and it was not for nothing.
He is one of the reasons Stima finished in sixth place with 44 points and were even at some point in the season considered contenders for the title.
His artistry in midfield was second to none and his crucial goals like when he scored in August to enable Stima beat Mathare United 1-0 to always kept Stima's title chances alive.
Overall, he made some crucial contributions for the power men and it was therefore not a surprise for him to be called up to the national team.
Humphrey Mieno (Tusker)
When Mieno wanted to force his way out of Ruaraka in June, the brewers stood firm and for a good reason. The fact that he wanted to join Gor Mahia made it even more difficult for the brewers to let him considering that both teams were fighting for the title.
Mieno gave a good account of himself in the Tusker midfield with crucial assists that left many fans wondering why he has always been overlooked by the national team selectors.
He is clearly one of the reasons Tusker won the league with a consistent performance in the middle of the pack.
John Makwatta (Ulinzi Stars)
He emerged the league's top score after netting 15 goals and becomes just the second Ulinzi Stars player to do so after Steven Waruru.
In total Ulinzi Stars scored 35 goals which means that Makwatta's goals were important in helping the soldiers finish in third position.
The soldiers also finished runners-up in the GOtv shield and even here Makwatta played a crucial role in helping them to do so. The team alongside Tusker will represent the country in next year's Confederations Cup.
Allan Wanga (Tusker)
Tusker were struggling to score goals before Allan Wanga's arrival changed all that in the second leg of the KPL.
Wanga returned to Ruaraka with a bang. The last time he was there was in 2007 when he won the KPL title with Tusker and also emerged the top scorer.
His second return saw him help the brewers not only win the KPL title but also the GOtv shield. His goal in the GOtv final made all the difference. He also scored in the season ender against Gor Mahia to cap a memorable season not only for the club but for himself as well which ended with a call-up to the national team Harambee Stars.
Jacques Tuyisenge (Gor Mahia)
He will be disappointed that Gor Mahia did not win a fourth consecutive title for that is why the former KPL champions splashed Sh4million to buy him.
He will also be disappointed that his ten goals will not give him the golden boot as he finishes fourth on the top scorer's list behind Makwatta, Wycliff Ochomo and Kepha Aswani but will take consolation in emerging his club's leading scorer in the first season.
Tuyisenge looks to have been let down by inconsistency but his performance when he was at the top was outstanding. He brought many tears of joy to Gor Mahia fans with some of his goals. His best is yet to come though.
Ze Maria blames lack of motivation
Kogallo's Brazilian tactician Ze Maria has blamed a lack of motivation for his team below par performance in the last match against Tusker
"My players came into the match with no motivation at all considering the fact that Tusker had already won the league. But we did well, we could have won this match but we did not take our chances." he said to goal.com
Some would say that an inspirational coach would have been able to motivate his players to play with pride and end the season on a high note.  An astute coach would have found
Ze Maria believes he can build on his performance to achieve a better performance in 2017.
"However, it is a plus to us, I came when we were down in the 13th  position but we have done our best and finished second. I believe we have a good squad to do better next season."