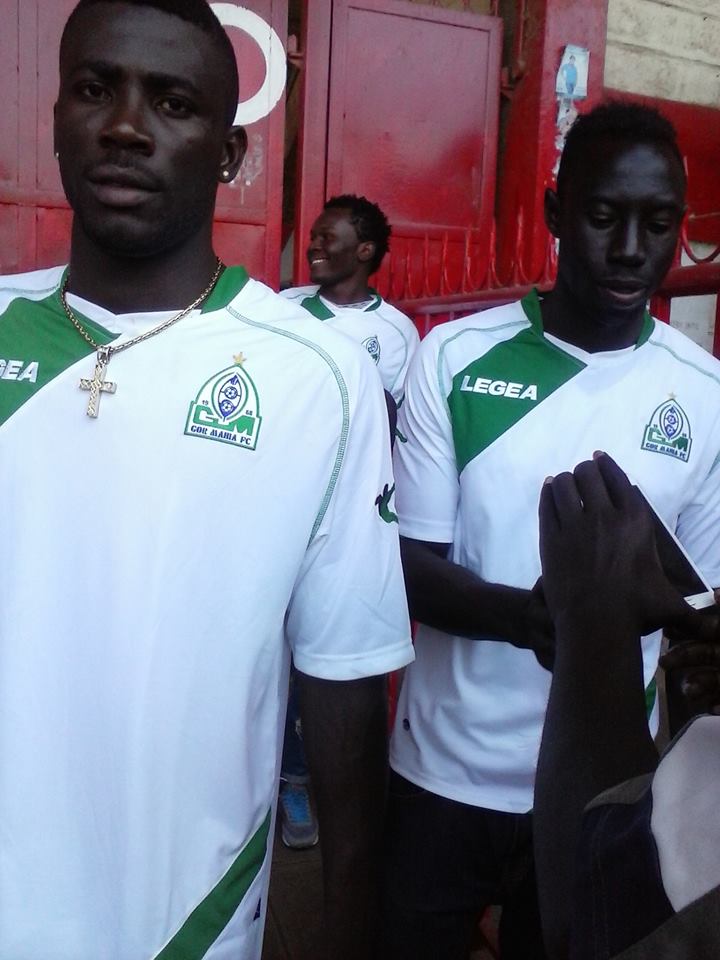 Gor Mahia's new signings are speaking out on what should be expected from then in the coming 2015 season.
Central defender Dirkir Glay, who joined from Thika United is imploring fans not to compare him to the recently departed David Owino "Calabar"
"I don't want fans to compare me with Owino, I'm joining the team to assist them win titles. I know it's a challenge because they expect me to prove myself since they lost Owino.
"They expect me to do more than him but I assure fans I will do my best in partnership with my colleagues to succeed this season," Glay told Capital Sport.
Glay who signed a two year contract went on to say that he was motivated at the prospect of playing for Gor Mahia.
"Gor is the biggest club in Kenya so it's a great achievement for me and it's the club that I wished to play after three years with Thika. I came for a challenge and I'm sure with the good environment as time goes by; I will adapt,"
Jerry Santos
Jerry Santos, a defensive midfielder is also motivated at the prospect of playing for Kogalo.
"It's been a challenge playing outside my country but I have gained experience I want to use in my future career. K'Ogalo is a big team and it's an honour joining Kogalo.
Santos also said he is his own person and rejects comparisons with the departing Kizito.
"I hope I will help Gor achieve whatever they plan for the season. We can't match what Kizito offered because he is a quality player but as Santos, I'm bringing in what cannot be compared with anyone," Santos, a former Harambee Stars midfielder declared to capital FM.http://gormahia.net/latest/wp-admin/post.php?post=5996&action=edit&message=10
Santos, who is 26, was first discovered in 2008 while playing for Dandora Youth in the Extreme Super 8 tournament. He was soon recruited by Tusker. His career also took him to Vietnam, Tanzania and Albania. In 2012, he won a case against Albanian side KF Tirana after they terminated his contract prematurely. He was awarded US $35,000.
Taofiq Zachary
One thing the 20 year old Ghanaian does not lack is confidence. He says he scored 18 goals while playing for Al Shaab in the United Arab emirates and he has put Kenyan defenders on notice that he plans to replicate that form in Kenya. Prince Tagoe who played for Ghana at the 2006 world cup is also a former Al Shaab player.
Zachary says he left the UAE due to racism. "I have been with the Arabs for over a year now but I must say they do not like black people, when things do not go right; you are at loggerheads with them. "
Zachary revealed how former Gor Mahia player Dan Makori enabled him to land at Gor Mahia.
"I was at Al Shaab with a friend, Makori, who happened to have played for Gor Mahia. He (Makori) however didn't succeed at staying at the club after negotiations didn't go well so he came back, that was about a year ago, Taofiq narrated to futaa.com
"Then after that, I received a call recently from Gor management saying they needed a clinical striker, I told them if there is a chance, why not? I will give it a try. I am here now, very happy with how they welcomed me and though I do not have a true picture of the Kenyan league but being Africa, I am sure it's more or less similar."
Zachary hopes that his exploits will enable him to someday play for the Ghanaian national team.