Ngala: Player issues have been sorted out
Long serving Kogalo Ronald Ngala has come out to allay fears among Gor Mahia fans. According to Ngala, the club has resolved the issues that caused players to threaten a boycott.
"We are definitely going for Cecafa Kagame Cup. There was some disquiet in the camp but now everything has been sorted out and we are ready to go. We are traveling tomorrow (Friday) at night after the Sony Sugar match," Ngala told Standard Sports.
Club secretary Ben Omondi echoed Ngala's sentiments and emphasized that all is well and the club is rearing to play SoNy Sugar.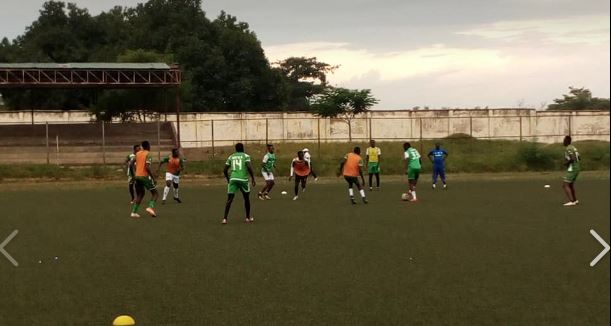 The disquiet was due to unpaid dues and some players were said to be disgruntled because they were given only one third of the prize money that came out of the recently concluded Sportpesa shield.
But Sally Bolo claims that the players are not owed anything.
"We don't owe any player salary arrears and in terms of win allowances, the only game we have not paid is Tuesday's against Posta Rangers. The only thing we owe them is the money from the Confederation Cup qualification and this, we promised we would pay 20pc of it," Gor Treasurer Sally Bolo said to Capital FM.
Kerr accuses official of sabotage
Coach Dylan Kerr for his part is unhappy with what he sees as sabotage from some club officials.
"I am not happy with one club official because she has no right to set players to initiate rebellion. She is an official and should be in the front in trying to solve issues not worsen them. She is causing problems in the team and it is unbelievable. I think the club needs to sort this out as soon as possible," a dejected Kerr said to Capital FM.
It has been suggested that the club official who incited the rebellion is Judith Nyangi.
Kerr also said he will assess Burundian striker Francis Mustafa who arrived in the country on Thursday.
We don't have much time because it is just one training session with him but we will see. It's only two days to the end of the transfer window which doesn't give us enough time to look at a player," Kerr added.
The Kagame cup kicks off on Friday.
Group A: Azam FC (Tanzania), Vipers SC (Uganda), JKU FC (Zanzibar), Kator FC (South Sudan).
Group B: Rayon Sport (Rwanda), Gor Mahia (Kenya), Lydia Ludic FC (Burundi), Ports FC (Djibouti)
Group C: Singida FC (Tanzania), Simba SC (TZ), APR FC (Rwanda), Dakadaha FC (Somalia)
Opening Fixtures
Friday, June 29
Group A
JKU (Zan) vs Vipers (Uga) – Chamazi Stadium, 1pm
Azam FC (Tan) vs Kator FC (S.Sudan) – Chamazi 3pm
Group C
Singida United (Tan) vs APR FC (Rwa) –National Stadium, 6pm