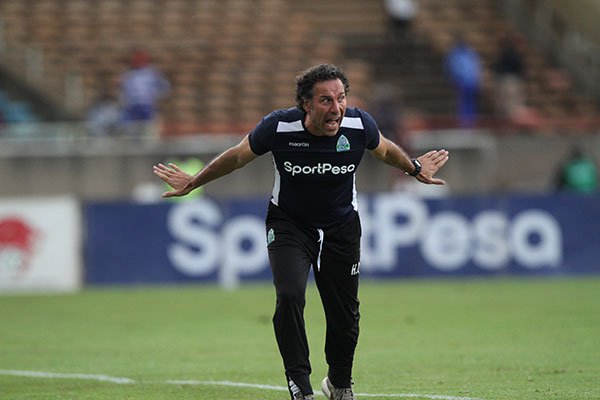 Gor Mahia coach Hassan Oktay says that Gor Mahia has what it takes to be a force on the continent.
"As far as I'm concerned, Gor Mahia is a brand in itself and one of the best teams not only in the region but Africa at large," Oktay told Standard Sports.
Oktay however says he will need to work hard in order to keep the players and the club focused unlike this season when everything fell apart against RS Berkane.
"But I need to improve this team and take it to the next level. We tried this season and even managed to qualify for the Confederation Cup quarterfinals. We had great potential but the problems we had couldn't allow us to go further.
" All the same, I believe next season is the best time for us to conquer Africa. Remember, Gor is one of the best 16 clubs in Africa, so with good preparation and recruitment everything is possible."
Oktay further revealed that he has turned down offers from Africa and Asia
Yes, it's true I did get good offers from other clubs within and outside Africa before we won the league. Two Angolan clubs, an Egyptian club and two from Turkey had given me lucrative offers, but I told them I'm happy where I'm. That's why I'm still here, I want to rewrite history with this mighty club," he said.
Oktay went on to express his happiness at stearing the club to its 18th title.
"I'm happy to have won the league title with Gor Mahia on my first season at the club. After Asia, this is the second time I'm winning a title. Of course, it's fantastic and I'm surely enjoying it. But I'm partially disappointed because I wanted to win it with a 15-20 points' gap," he said.
Kahata has not been approached for a contract extension
Meanwhile Francis Kahata, one of the main cogs in the Gor Mahia set up says he is likely to leave since the club has not approached him over contract extension.
"From next month I will be a free agent meaning I will be free to sign with any team that shows interest," Kahata told Goal.
"As a player, I have won three consecutive league titles and it is time for a new challenge. However, that does not mean I do not want to stay at the club, it is just that the management has not approached me over a contract extension.
"I have been at the club and I love it, but the officials have to show they want me around as well." he said to goal.com
Tuyisenge to Angola
Rwandese striker Jacque Tuyisenge, who has been at the club since 2016 and has been Gor Mahia's main hammer upfront, appears set to join Petro Atletico of Angola.
"Petro Atletico has offered $150000 for Tuyisenge and Gor Mahia are set to get 20% when they finally sell him. His contract ends in December and he is expected not to renew the contract," Gor Mahia organising secretary Judith Nyangi told goal.com
According to Nyangi, the two clubs have already agreed to terms.
"The two clubs have agreed on contractual terms defining the transfer of Tuyisenge and the only thing Gor Mahia is awaiting now is the money agreed to be wired into their accounts." said Nyangi