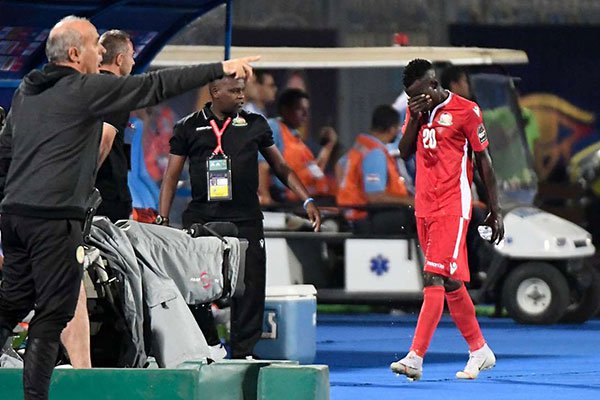 Philemon Otieno regained his place in the starting line-up. Francis Kahata started on the bench but came on in the second half as coach Migne tried to inject some attacking impetus.
But it was all for nought as Senegal proved that they are a class above Kenya, winning 3-0.
Philemon Otieno had a nightmarish game. Two rash challenges so him cautioned twice and therefore sent off. It was similar to the yellow he got in the first game. It invalidated all the other solid work he had done.
For a long period in the first half, it seemed Kenya was going to match Senegal as they strung together a series of passes, though they still did not manage a shot on goal in the first half. Johana Omollo in particular was useful when it came to connecting passing movements due to his ability to hold onto the ball under pressure.
Kenya defended stoutly in the first half. But they also have goalkeeper Matasi to thank. He made a number of daring saves including a penalty from Sadio Mane.
But Kenya soon ran out of steam. Started to give the ball away cheaply and unable to withstand the Senegal pressure, they started to boot the ball foreward to lone striker Olunga. This was futile because Olunga was always surrounded by two world class central defenders with no other attacker in sight.
Ayub Masika was to support Olunga. He tried to make incisive runs using his speed. Whereas he can outrun people in the Chinese league, he found the speedy Senegalese to be a different kettle of fish.
Wanyama was average. Dennis Odhiambo had Kenya's first shot on goal when he latched onto a rebound. His goalbound shot was parried by the goalkeeper.
Former Gor Mahia players:
Eric Ouma often tried to outrun the Senegalese which is not a sound strategy because the Senegalese have always been fast and were able to match him unlike the Tanzanians.
Musa Mohamed played a key role in bottling Mane for much of the game. But he was finally beaten to the ball by the Liverpool striker for Senegal's second goal.
Michael Olunga struggled as a lone striker as he was not getting any passes in scoring position. Basicallyu Harambee stars created hardly any chances