Remembering Ben Oloo "Breakdance"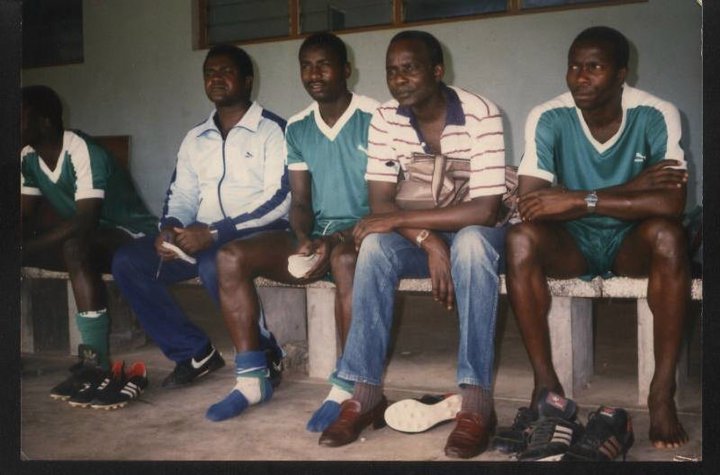 Ben "Breakdance" Oloo, one of the most gifted players ever to don the Gor Mahia jersey has passed on. He was found dead at his home in Kaa Chonjo Mombasa on Monday February 26 2018.
Breakdance joined Kogalo at the start of the 1985 and stayed on until around 1990 whereupon he hang his boots. He was nicknamed breakdance because his mazy dribbling skills often left defenders dancing. And when he joined Kogalo in 1985, "Breakdance" was the prevailing dance crazy that engulfed the country. There was even a blockbuster movie based on the dance.
He was born in 1961 in Karungu location in what is now Migori county. He spent his formative days in Kisumu City where he attended Central Primary School and Kisumu Boys High School where he excelled at hockey.  He then transferred to St Mary's High School, Yala where he played basketball. After excelling   an inter-dormitory football competition, he was convinced to focus on football by former Luo Union FC legend Eric Omonge "Jaboma" .
Upon finishing school, he joined Kisumu Black Stars in 1979. He stayed on until 1980 before joining Utalii College then Lake Warriors in Mombasa.  Cargo FC, (now Bandari) raided Lake Warriors, recruiting most of their top players including Oloo as well as George Onyango "Fundi" and others like Albert Oyoo "Wazimu".
It was while playing for Cargo FC that Breakdance was sported by Gor Mahia talent scouts who approached him, perhaps at the behest of his former team-mate George Onyango "Fundi" who has also joined Kogalo from Cargo the previous year.
Upon joining Gor Mahia, Oloo made an instant impact. He quickly became a fan favourite due to his superb dribbling skills on the left wing which often left defenders dazzled. He was also a fine crosser of the ball. His first assignment was the 1985 CECAFA cup. He was one of the new signings called up to shore up a Gor Mahia side that was badly depleted due to the suspension of six players. He played a pivotal role, playing all the matches as Gor Mahia went on to win that tournament.
"Breakdance" was often deployed as a substitute. Indeed his most memorable match was the Mashemeji derby at the end of the 1987 season. With the game seemingly destined for a scoreless draw, coach Jack Johnson introduced "Breakdance" as a second half sub. It was a stroke of genius. First Breakdance lit up the crowd as he confused and mesmerized the Ingwe defence with his mazy dribbles. Then towards the end of the game, he dribbled past Wycliff Anyangu, and sent a well weighted cross which Peter Dawo met with a header to score the winning goal. Gor Mahia won 1-0, eliciting crazy celebrations as fans danced and sung from Nyayo stadium to the City centre as was the tradition back then.
Throughout his entire career, Breakdance was an employee of Kenya Ports Authority in Mombasa and would diligently travel to Nairobi along with George Onyango "Fundi" to attend training sessions. He was one of the few KPA employees who did not play for Bandari FC.
Once he hung up his boots, Breakdance stayed in Mombasa where he continued to work at KPA. He was also a long serving official of Bandari FC where he served in various capacities including club secretary, team Manager and Chairman.
An apparent suicide is blamed for his demise. Chairman Ambrose Rachier remembered breakdance for the role he played a player and as a former player.
"As chairman of Gor Mahia, I want to pass my very sincere condolences to the family of the late Ben Oloo. He was a very good player, very versatile from the wings. His intricate leg movement made him a darling to our fans hence the nickname 'Breakdance'. He was our legend.
"He was also useful to us in terms of identifying talent. We will sorely miss him, and as a club, we will take part in the funeral plans," mourned Rachier.